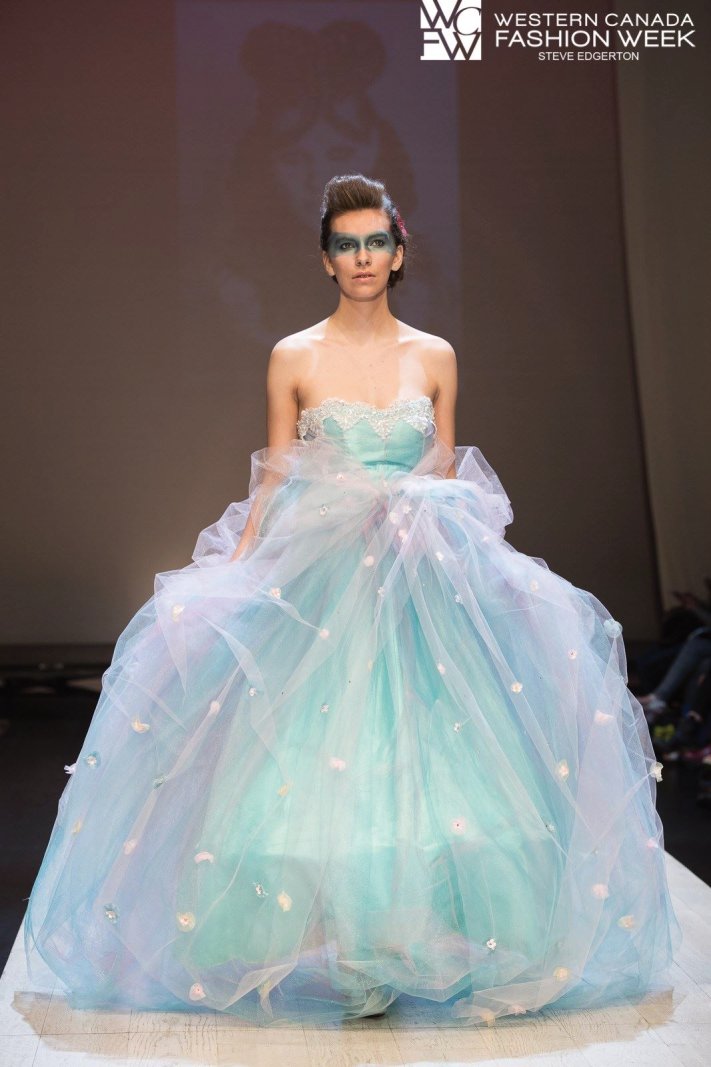 Western Canada Fashion Week
Collections
____________________________
Edmonton, AB
September 20, 2016
Night five at Western Canada Fashion Week in Edmonton gave us lavish dresses, sexy menswear and a fierce lipstick line.
The showcase at the ATB Arts Barn that night was short, but super sweet.
Beth Anne Couture
Fabric, fabric and more fabric.  The luxurious larger-than-life dress from Beth Anne Couture could easily be seen strutting the red carpet at any star-studded gala.  Shimmer and sheer.  Texture and colour.  Each princess-worthy should have Hollywood starlets flocking to Beth Anne Couture for their one-of-a-kind look.  
Salt & Tickle
The unique and funky dress shirts of Salt & Tickle had everyone looking twice.  Puppies, cassette tapes and bacon, yes bacon prints (and even matching socks) set these dress shirts apart.  Whether paired with cut-offs or sleek pants and a blazer, these shirts were classy, bold and definitely got our attention.   
Mister Cosmetics
Molly Alanna, creator of Edmonton-based Mister Cosmetics, showed off her new line of cruelty-free lip glosses.  Models walked the runway in striking black ensembles to highlight the bright and deep new colours which compliment the company's various lines of lipstick.      
OMD4 Makeup & FX was behind the scenes helping to provide classic makeup looks for the models.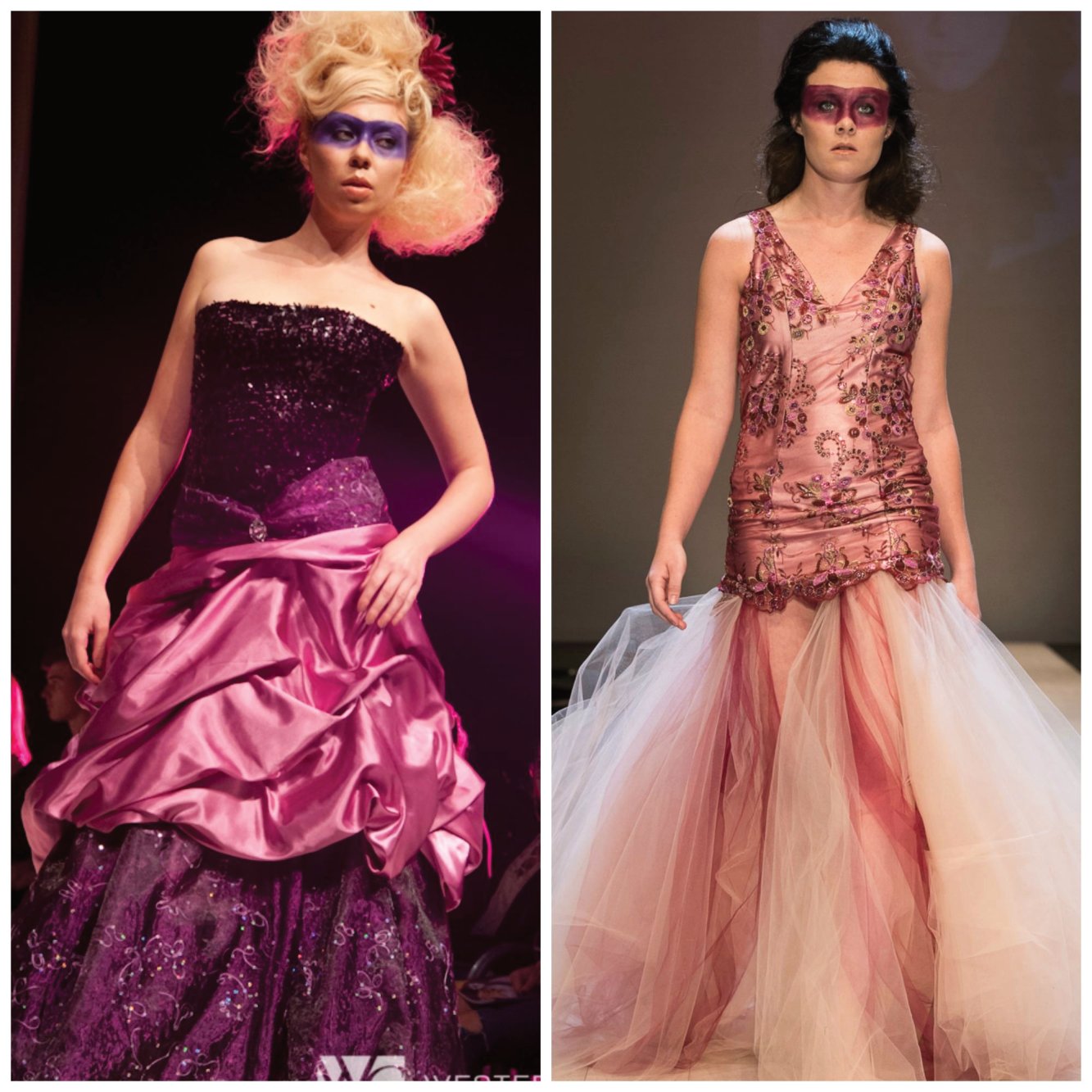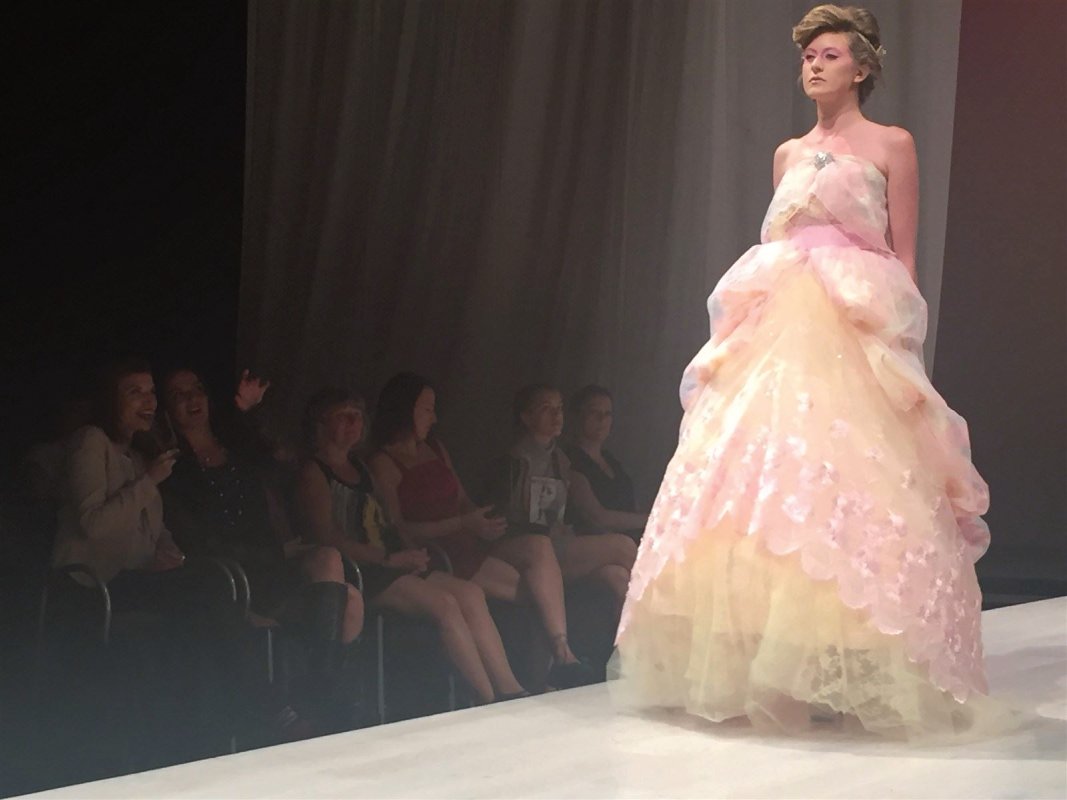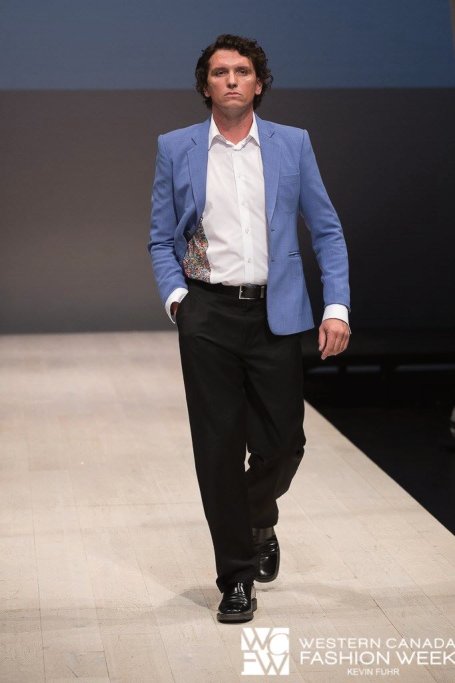 ___________________________________________________
Thank-you to the awesome WCFW photographers. 
Check out some of the other amazing shots taken from the event at
Flickr
.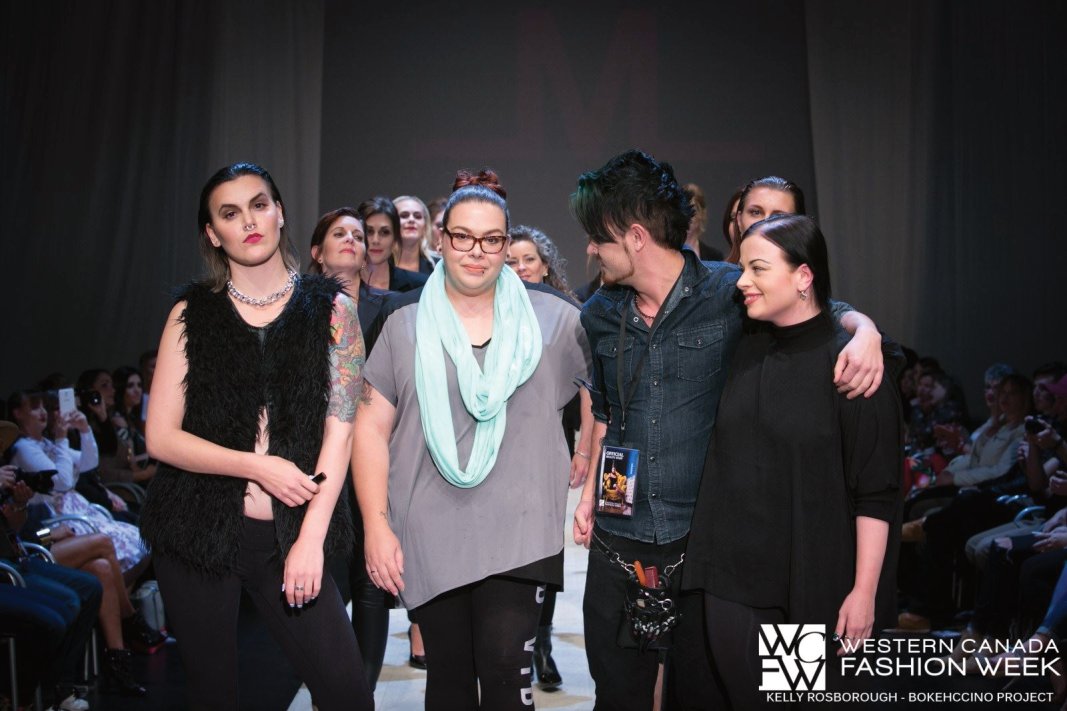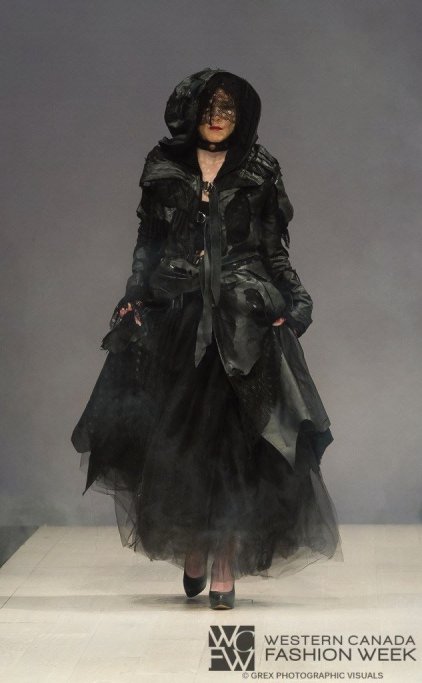 Western Canada Fashion Week
Fantasy Night
___________________________
Edmonton, AB
September 19, 2016
Firefly Theatre & Circus
Day Five of Western Canada Fashion Week in Edmonton was Fantasy Night.  It was a night of creativity, costume and audacious whimsy.
As a true artistic showcase, the folks at Western Canada Fashion Week gave us more than just wearable art.  The evening started with an almost hypnotic performance by Michael Oritz aka "The Flowbot".  In a head-to-toe outfit that was part Cyberman part Transformer he popped his way across the stage showing an exquisite talent for the illusionary street dance style known as The Robot all the while floating, sliding and caressing a solid glass sphere.   
Lewis Mayhem and Vexy Heart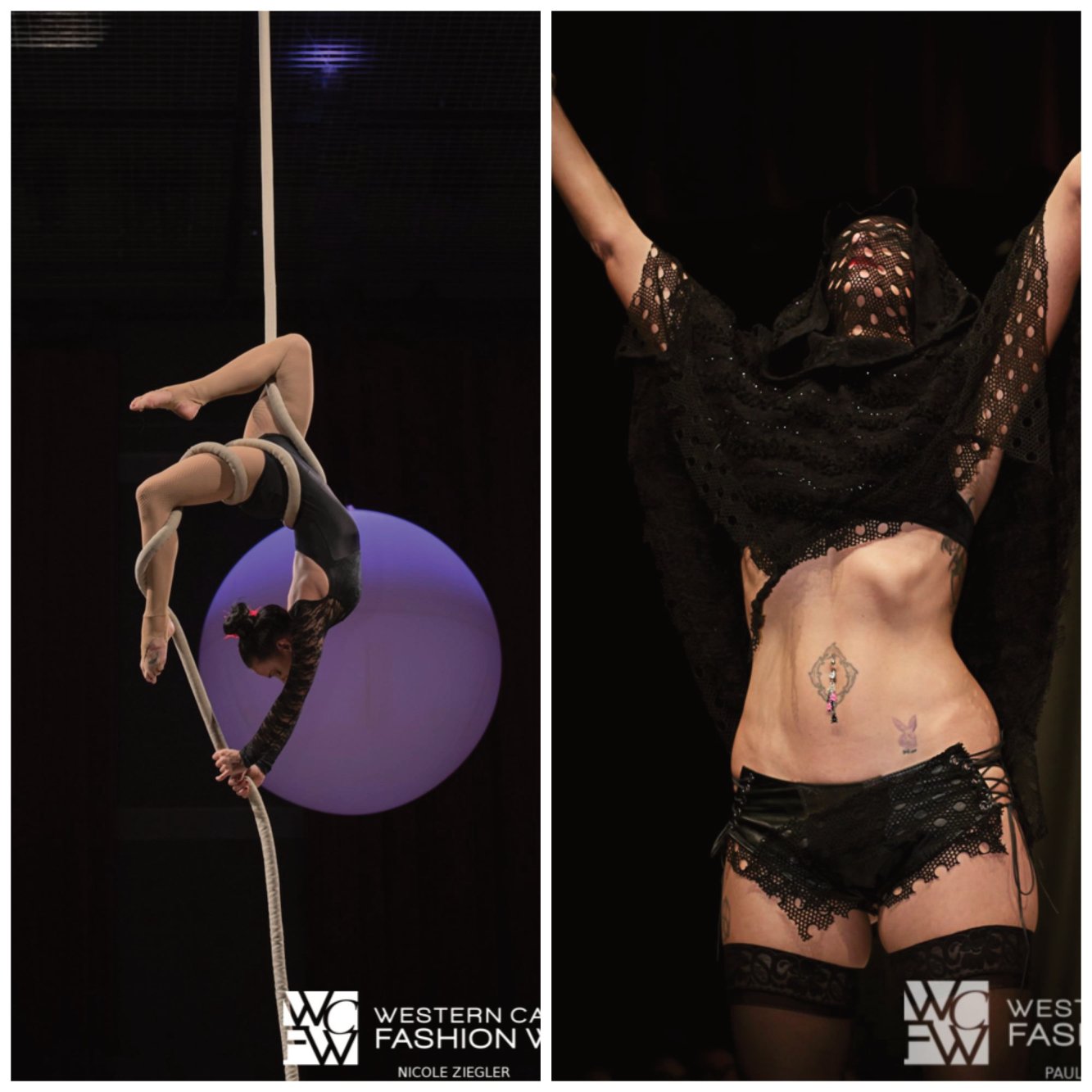 Lewis Mayhem's and Vexy Heart's "My Beautiful Nightmare" collection was a mix of punk rock fashion with short skirts, striped leggings and torn tops with dark school girl with thigh-high slouchy socks, shift-style dresses and jumpers. 
There were two distinct feels in this collection: a sense of innocence and one of rebellion.   As a whole it may have lacked unity; however, the two sides appealed to me.  Afterall, we are all a little bit sweet.  We are all a little bit bitchin'.      
Firefly Theatre & Circus
The edge-of-your-seat performance by an aerial acrobat from Firefly Theatre & Circus was elegant, yet scary.  Beautiful, yet unbelievable.  Her display of skill and strength  provided the perfect interlude between designers.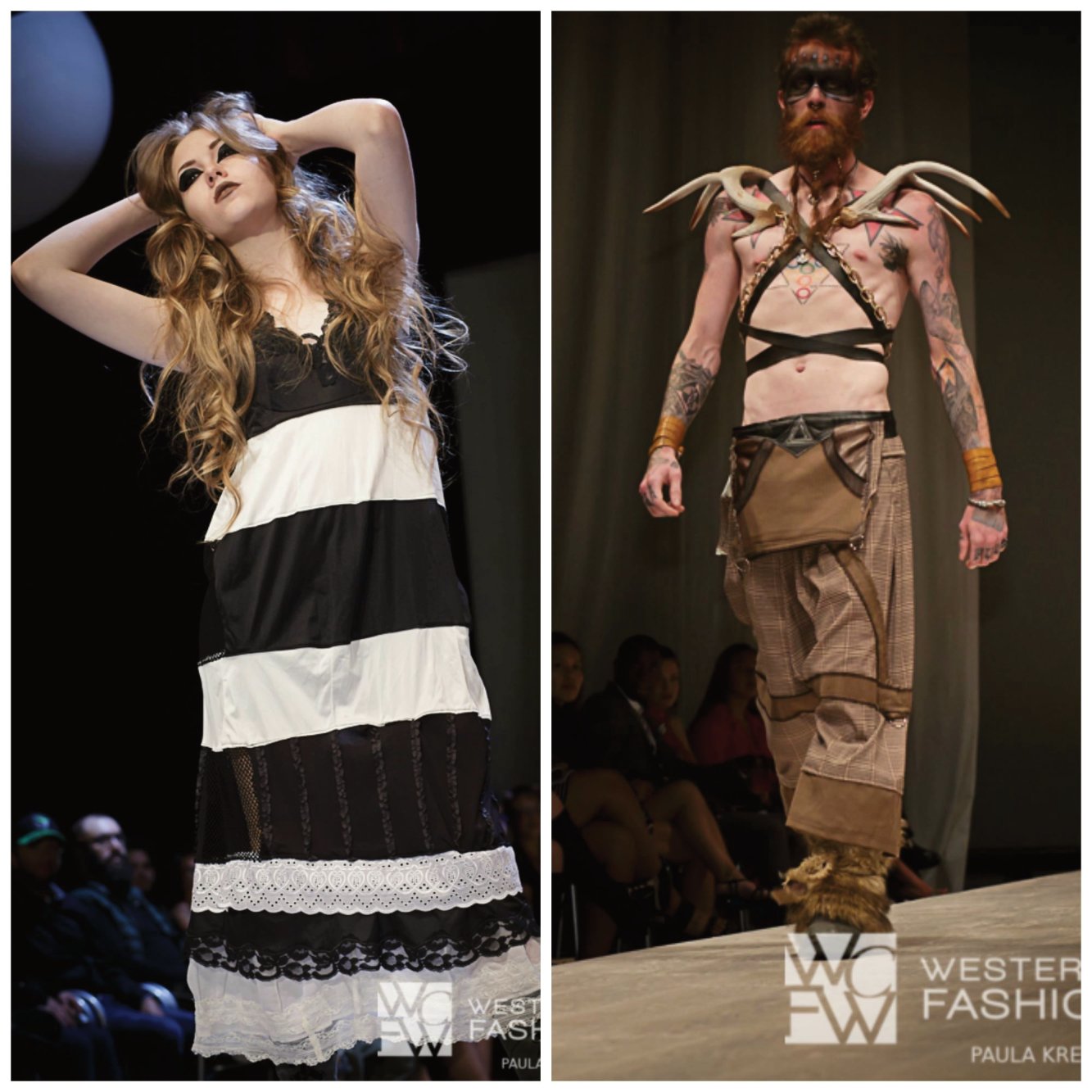 Paragon of Design by Scrocki with Lewis Mayhem
Is there such a thing as gothic high fashion?  Turns out there is and it was centre stage with a collection from Paragon of Design.  Intricately designed, handmade leather corsets, belts and headpieces were a large part of this line. 
Designers Amy and Tanner Scrocki use leather, metal and fabrics to create more than a simple stand-alone visual masterpiece.  Each ensemble is built to bring a cast of characters to life complete with their own stories and I love a good story.  This one, was brilliant.  
Thank-you to the awesome WCFW photographers. 
Check out some of the other amazing shots taken from the event at
Flickr
.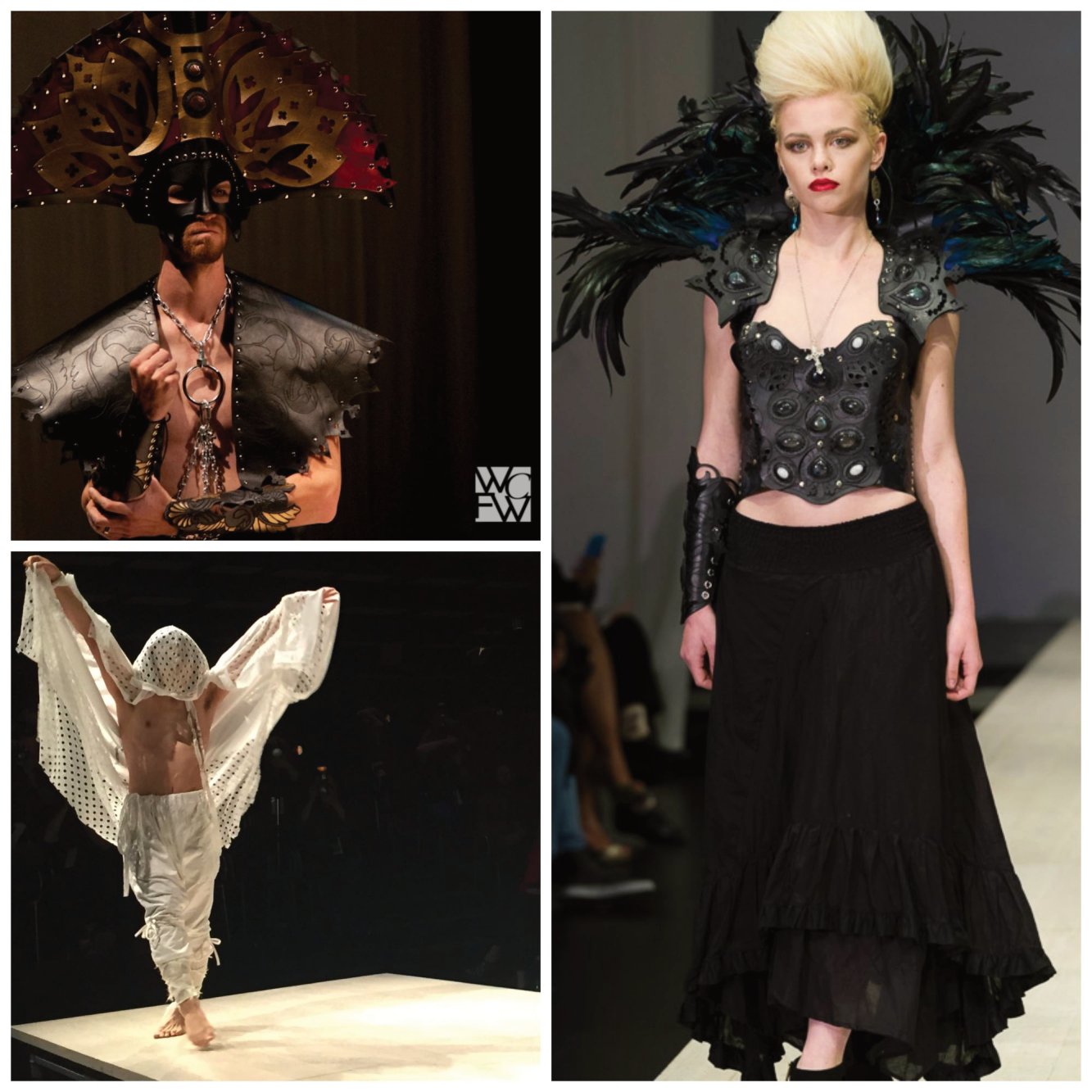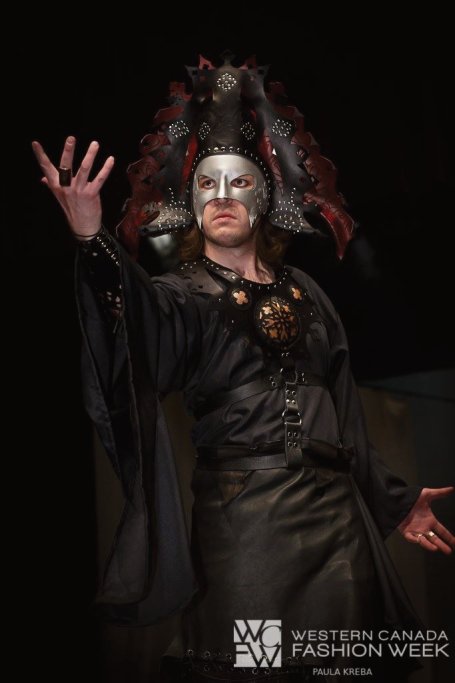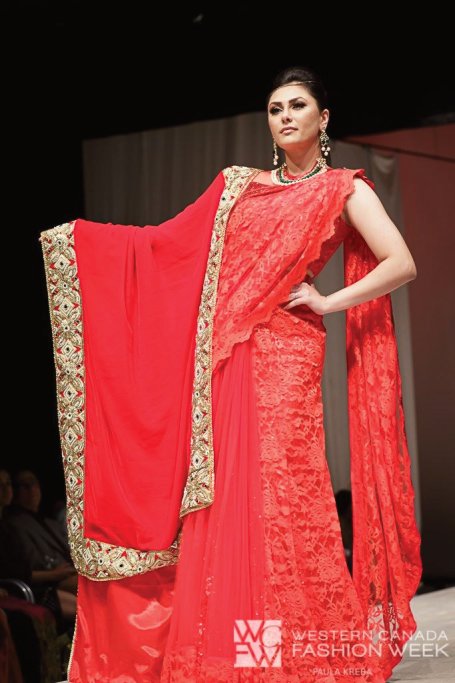 Western Canada Fashion Week
Global Collections
_________________________
Edmonton, AB
September 18, 2016
The OMD4 team was at the ATB Financial Alberta Arts Barn for night three of the fall showing of Western Canada Fashion Week. Global Collections night never fails to amaze with luxurious fabrics, a myriad of colour and plenty of patterns.
I'm not the type to rave about everything I see.  If I don't like it, I'll say so.  My personal opinion of the evening? 
Beyond beautiful.  
My eyes were glued to every layer, every detail and every step as I found myself wondering how much it might be to own every piece I loved, but realized it would probably mean selling my car. 
The evening began with a spoken word showcase by Quebec-based artist
Lady Vanessa Caicedo Cardona
who gave an impassioned performance that answered the question: "Where do you come form?"  Her answer ... "I come from love." 
Maria Valencia Alvarez of the
Pique Dance Centre
in Edmonton performed next leaping and spinning her way down the runway in an elegant showing of her talents.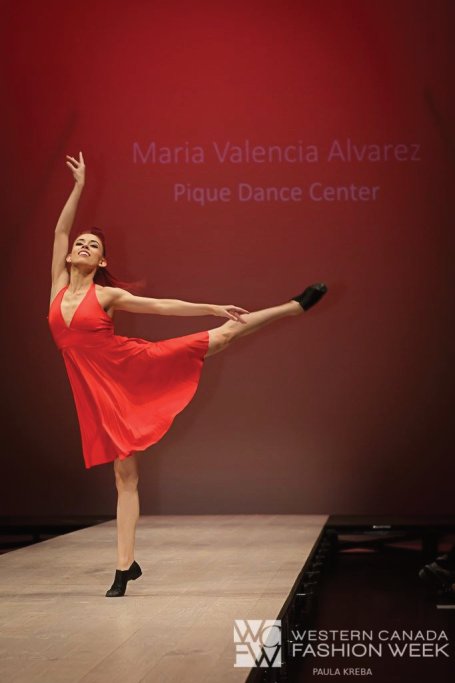 Kilele Creations
The first collection was from designer Dan Muthui Kilele who, though based in Edmonton, is originally from Nairobi, Kenya.  He showed us both men's and women's trend-setting style with an African flare.  Long dresses with fun geometric patterns joyfully contrasting light and dark featured heavily in this line.  
Designerz Den
Can someone be elegant and demur while being sexy at the same time?  The girls sporting Designerz Den fashions proved it was possible.  Through the layers of modest sari material and sheers shawls shone a confident beauty.

Africstyle Fashion
Fabrics, prints and colours infused with inspirations of Africa tickled the senses.  From the drummer who lead the line to the to the bright colours and large-print patterns to the breezy fabrics you could feel without the need to touch. 
Aman Couture
Extravagance ruled the runway when Aman Couture closed the evening.  Every colour of the rainbow paraded down the catwalk and each outfit was embellished with gold trim, inlay and stitching.  I felt richer just watching the layers of flowing fabrics walk by.
Next Up - WCFW Night Four: Fantasy Night
________________________________________________________________________________________
Thank-you to the awesome WCFW photographers. 
Check out some of the other amazing shots taken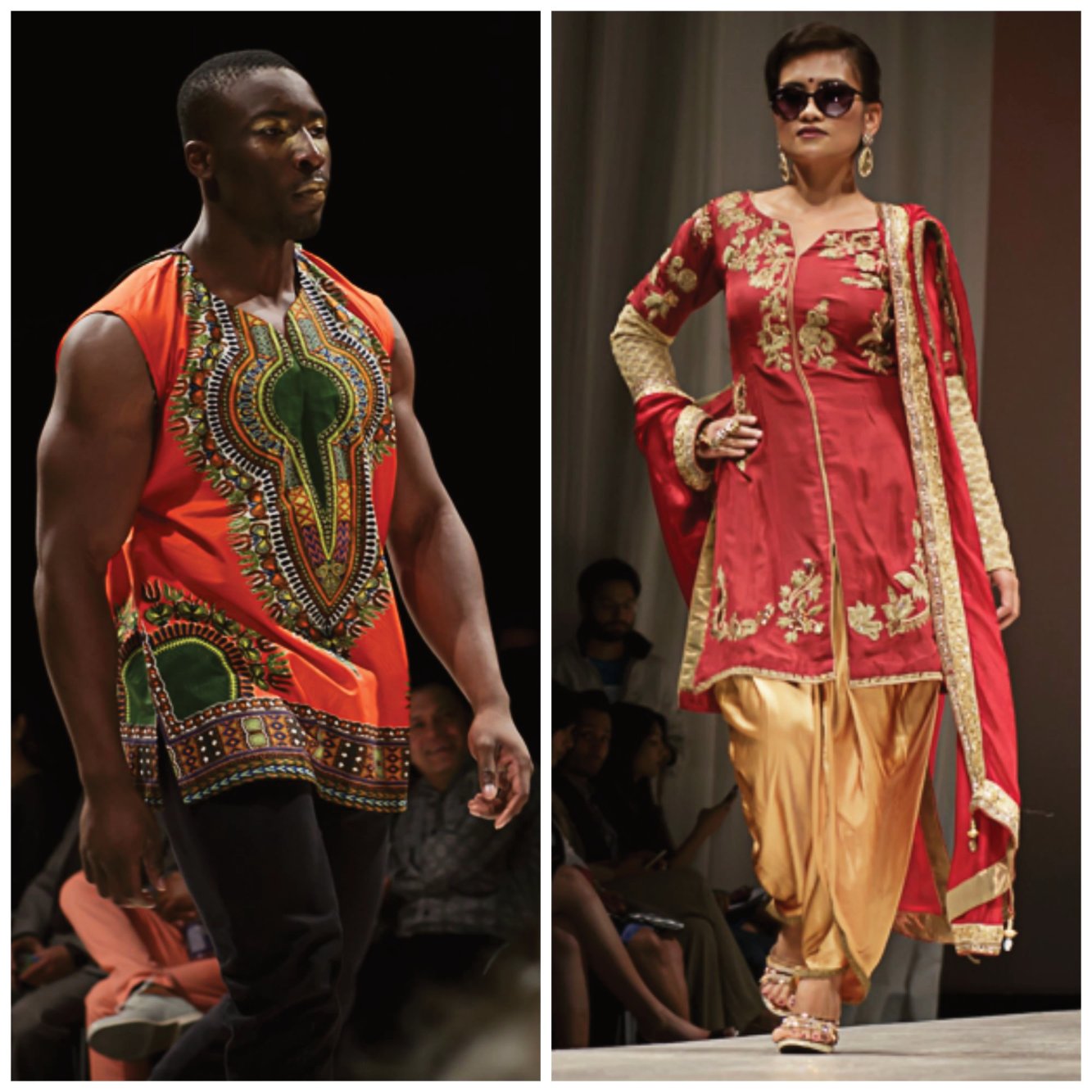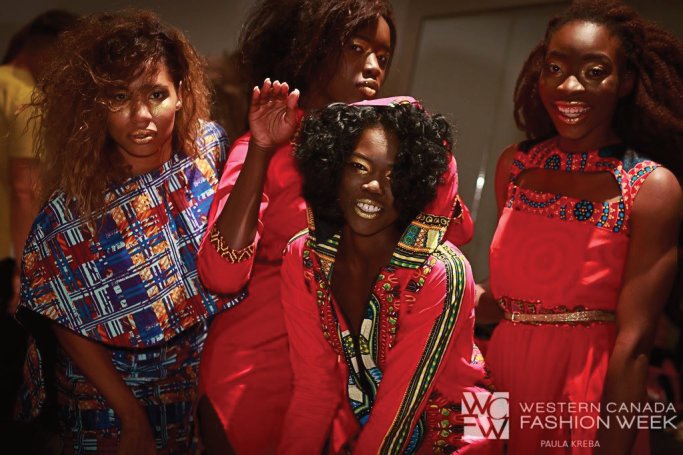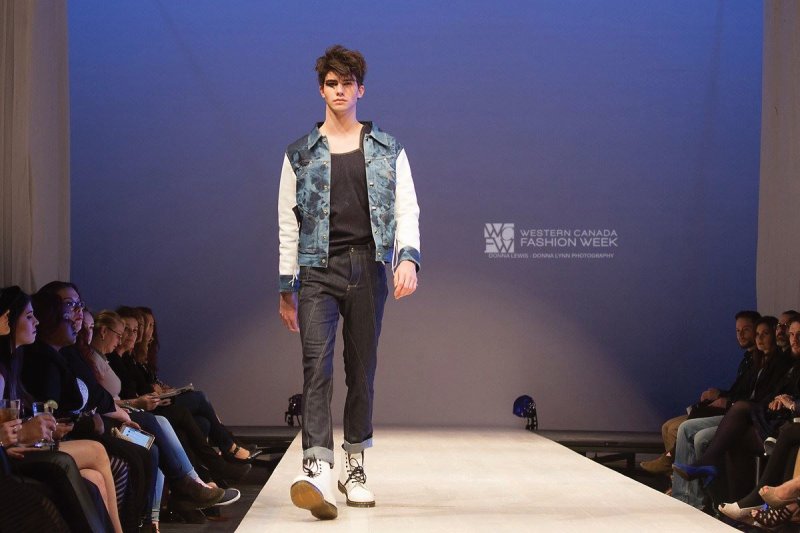 Western Canada Fashion Week
Celebrity Collections
______________________
Edmonton, AB
March 31, 2016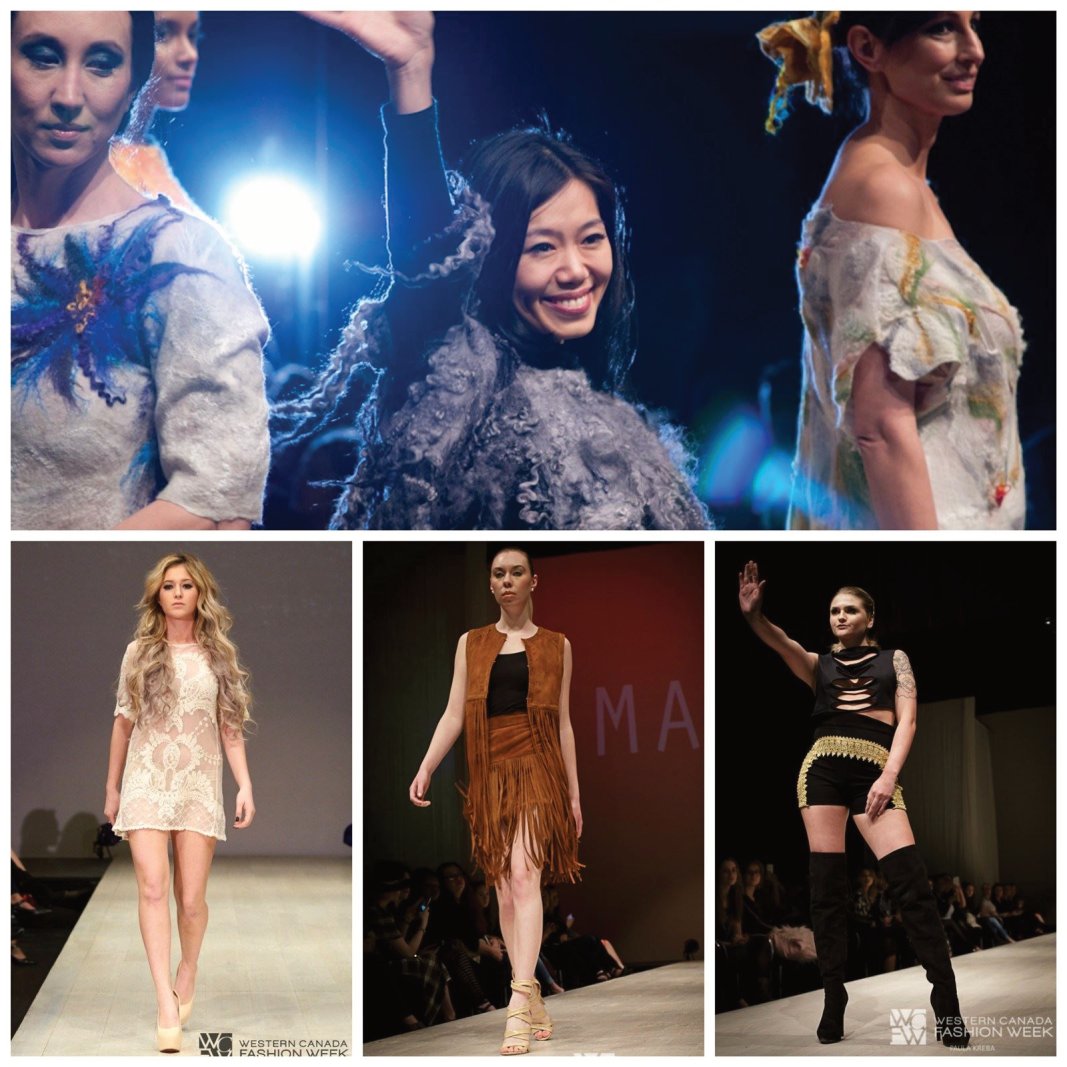 Mister Cosmetics
 &
MIO
 - Edmonton
Daniel Snow
– Edmonton
Baluevs Fashion Studio
– Edmonton
Melany Rowe
– Edmonton
Elina Ten Eco Couture
– Ontario
Malika
– Calgary
Tugce Yavas
– Istanbul, Turkey
What a wonderful night to end an outstanding week of fashion, imagination and talent at
Western Canada Fashion Week
.  Friday night's show didn't disappoint.  Each collection made use of a variety of fabrics, a diverse group of models and a great big helping of creativity.
I brought along my good friend and fellow
Sephora
makeup artist, Stephanie.  As we watched the collections that graced the runway, we couldn't be anything, but impressed.
Tugce Yavas - Istanbul, Turkey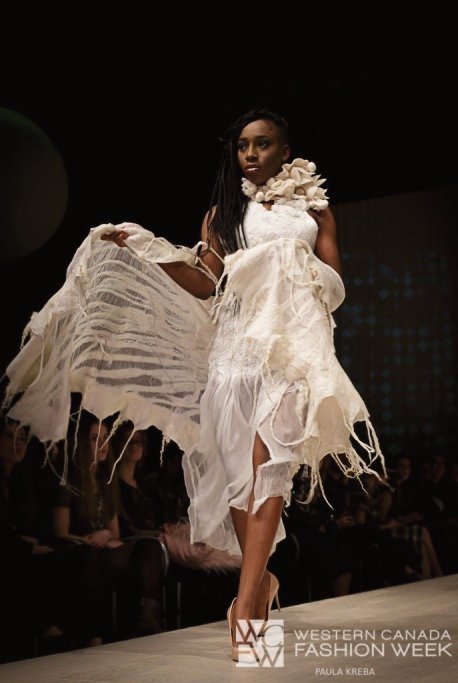 One of my favourite collections of the evening was from Tugce Yavas, a young designer from Turkey who favours the use of organic and reused materials.  Each outfit had it's own unique silhouette and striking attitude.  Simple, but loud ensembles in black and white paired with makeup as white streaks and spider webs across the face.  Nicely done, I say.
Melany Rowe - Edmonton
The delicate and intricately decorated dresses from Melany Rowe always astound.  Sexy, yet elegant.  Revealing, yet classy.  Sheer laces in blacks and whites hugged the body and covered all of the right places.  The luxurious black gown was enhanced by the exquisite bead work by Becky Turner.  A traditional smokey eye partnered with a nude lip only enhanced the overall sultry vibe of the collection.  I truly admire the artistry that goes into creating her risqué gowns that stun, shock and amaze the senses.
Mister Cosmetics and MIO - Edmonton
A particularly fun moment of the night was the Mister Cosmetics and John Mio show.  A little fashion mathematics for you: Molly's array of colourful lipsticks plus John's bold personality equals brass, sass and "Oh, ya!".  The music, the outfits and the lipstick combos were fierce.
Malika - Calgary
Fringe!  So much fringe.  I have so much love for anything with fringe.  This collection from Malika had everything: skirts, jackets, vests and more.  The fur and stilettos say high class, but the leather and zippers say biker chick.  I loved the contrast.  Seamless beauty with each and every piece.
Daniel Snow - Edmonton
Fitted jackets, gold fabrics and retro-inspired denim from Daniel Snow all came together to create a collection worthy of rock 'n' roll royalty.  Any one of the stylishly edgy outfits could just as easily have been walking down the red carpet at a lavish award show rather than the runway.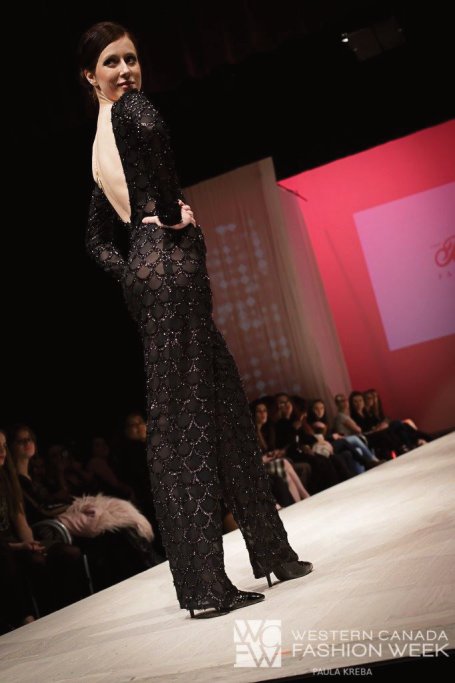 Baluevs Fashion Studio - Edmonton
I had a love/ hate relationship with Baluevs Fashion Studio's collection of metallic jumpsuits, cocktail dresses and pant/ jacket combos.  While not a fan of the exagerated jacket shoulders or a bulky jumpsuit number with a purple shimmer, the cocktail dresses were a definite win.  They were sleek, refined and beautifully tailored.  Several fitted jumpsuits were also were stunning, in particular a low-backed  patterned black piece.       
Elina Ten Eco Couture - Ontario
Works of art.  That is the only way to describe the collection of dresses from Elina Ten Eco Couture.  Bright colours, flowing material, flowers and butterflies gave the entire collection and light and fresh feel.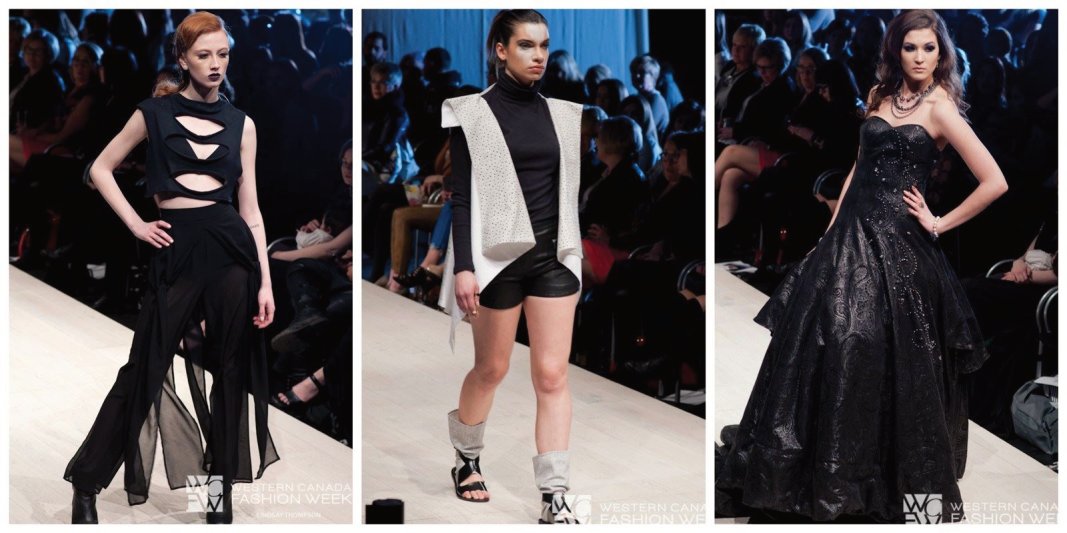 Thank-you to the awesome WCFW photographers.  Check out some of the other amazing shots taken from the event at
Flickr
.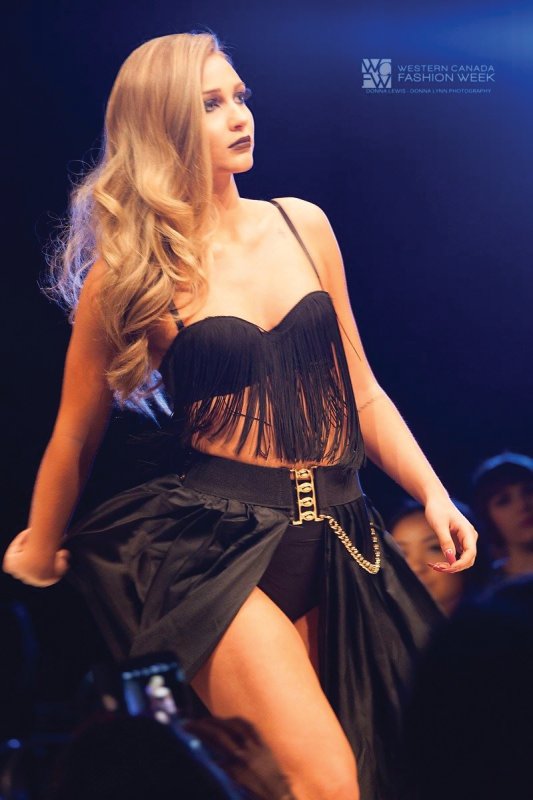 Western Canada Fashion Week - Collections
Edmonton, AB
March 29, 2016
____________________________________________
Back at the ATB Financial Arts Barn in Edmonton's Old Strathcona for another night of fashion, fun and whimsy.
Trippy Hippy Clothing - Brooks, AB/ London, UK
Tuesday night's show opened with an explosion of colour courtesy of Victoria Patterson's funky, off-the-wall knitwear.   Skirts and dresses covered with knitted pizza slices, rainbows and eyeballs may not have been a collection to  suit everyone's liking, but call me crazy, there was just a special something about those bulbous sweaters.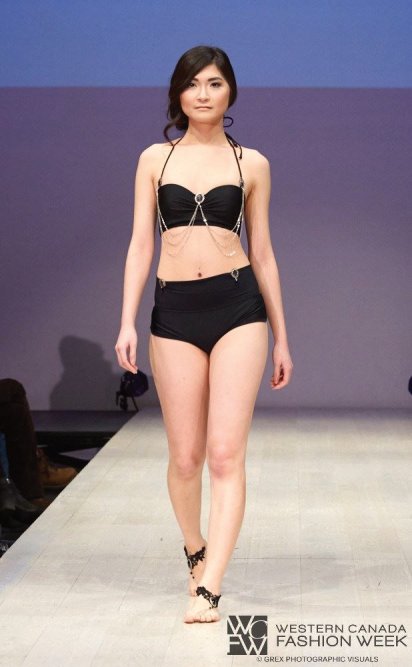 Unusual.  Bold.  Eye-catching.
Spectacular.    
Madame Nadine Jewelry - Cold Lake, AB
Jewelry lines can be hard to judge as they whiz by you on the runway; however, Madame Nadine Jewelry had more to offer than your basic bracelets and necklaces.  The pieces shown at Tuesday's event included hair accessories, beaded belts and full body pieces.  A brilliant way to add a little shimmer and shine to your outfit.     
Pari Chehrehsa - Calgary, AB 
This collection of hand-painted silk scarves was a treat.  As someone who owns about 50 scarves I may be a little biased; however, I don't think you need to be a scarf lover to recognize and appreciate the talent required to create such beauty.  Intricate portraits and scenes from nature piqued curiosity about the tale each one had to share as they danced down the runway.  
Averynthe - Calgary, AB
Averynthe's new collection 'Epithymeo' took to the runway with the fierce confidence we've come to expect from designer Mark Abenir and his team.  Draped in flowing solids, geometrics and sheers finished with gold hardware the models owned each step and nailed every pose to show the full radiance of the collection.
Amélie Loisy-Moutault - France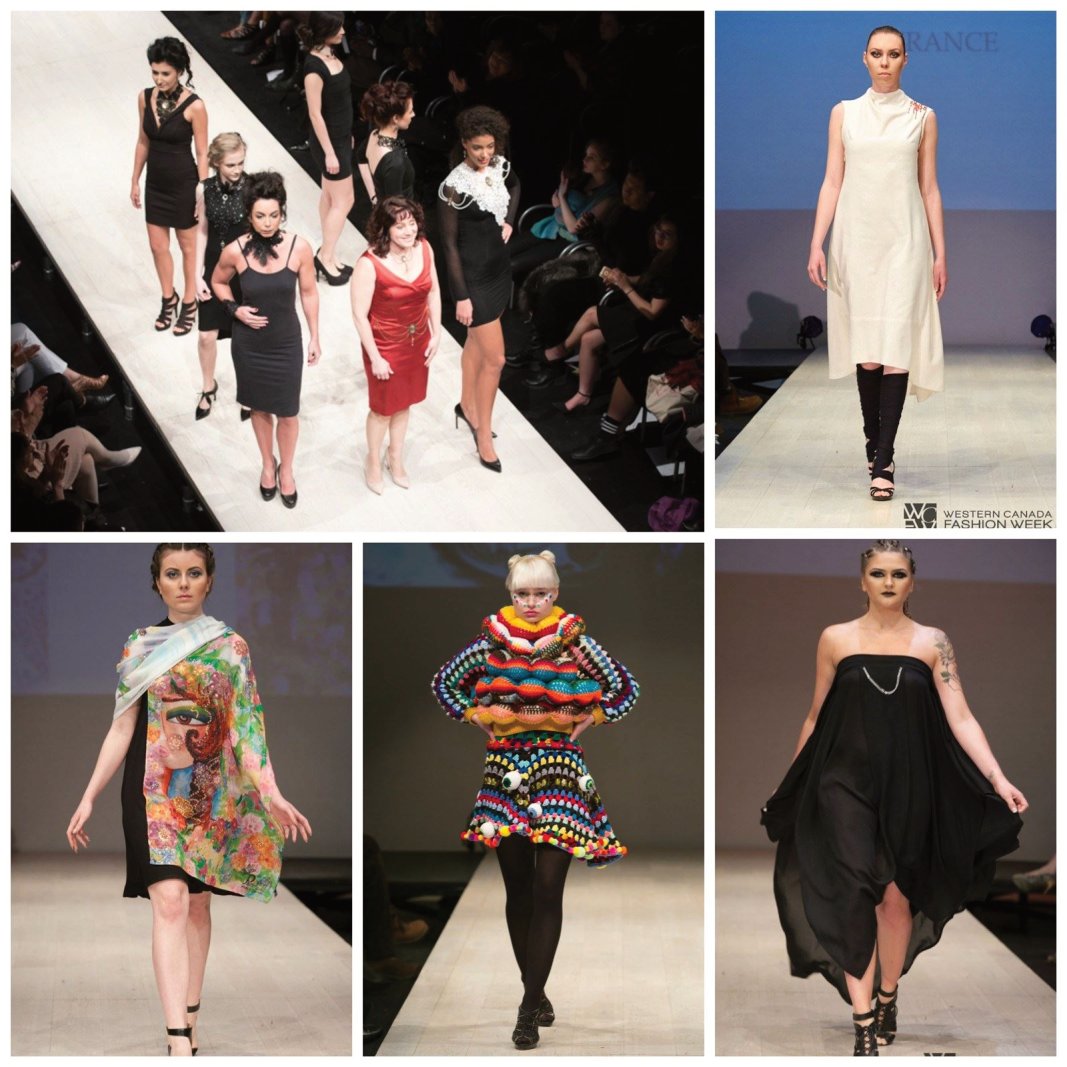 With her second showing in two days, Amélie Loisy-Moutault's 'Jeanne' collection featured full-length dresses and high-waisted trousers, all with clean lines and simple silhouettes.  A mostly monochromatic colour scheme of whites, greys and blacks was accented by the occasional splash of red detail. 
Thank-you to the awesome WCFW photographers.  Check out some of the other amazing shots taken from the event at
Flickr
.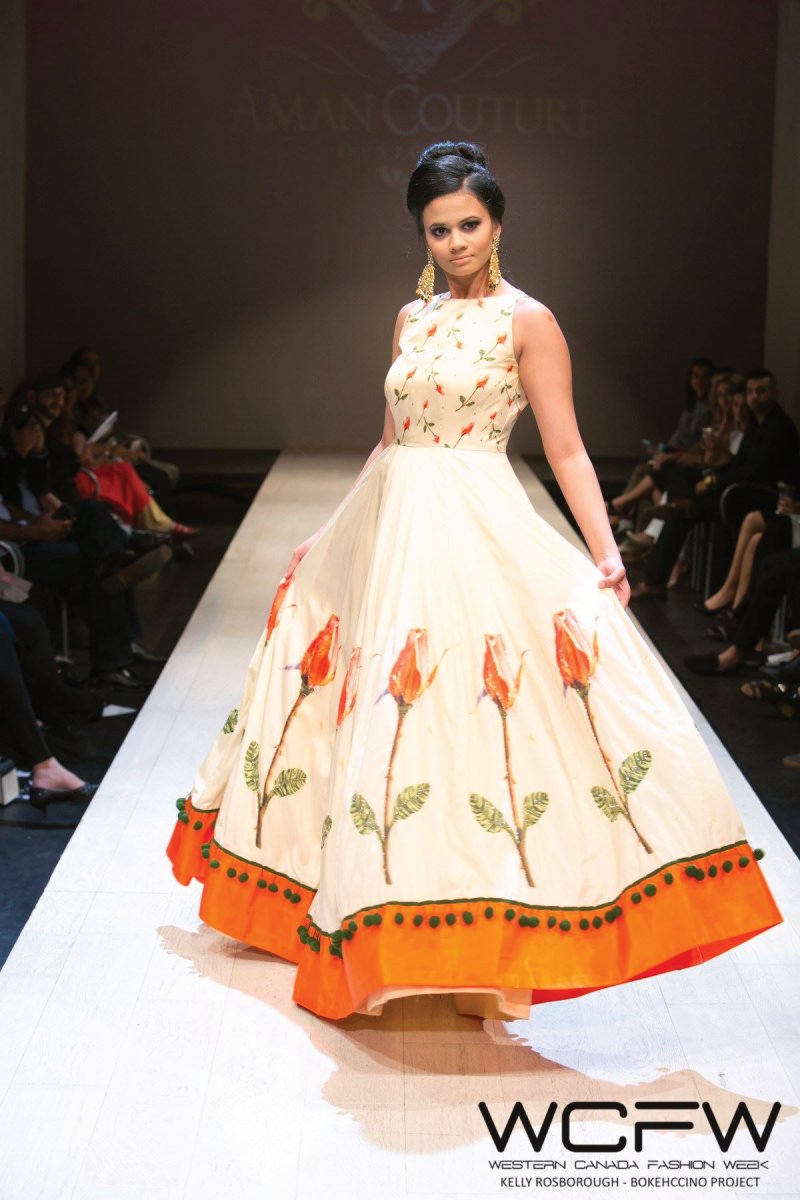 Western Canada Fashion Week
Global Collections
______________
March 25, 2016
Edmonton, AB
Friday Night's Line Up
Zapato Sanchez – Men's shoes [Clothing by Derks Menswear]
Designer's Den by Esha – Calgary / India
Aman Couture – Edmonton / India
Nazila Couture – Edmonton/Phoenix/ India
Hulos by The Huy Hai Long – Vietnam
Here we are again ready to tell you about the local and international fashion that has come back to Edmonton in season 23 for Western Canada Fashion Week (WCFW).             
Joined by Kazper Harley, a male model  who walked the runway at last year's event, I was treated to an evening of colour, style and culture. 

Aman Couture - Edmonton, AB/ India
The show started with a beautiful East Indian dancer who made her way down the catwalk in a two-toned blue pants and top with a flowy dress over top and rose gold embellishments with music that took you away to the homeland.
Their makeup was a smokey eye with a nude lip, a perfect combination for this showcase. This line was an elegant mix of traditional attire with a modern twist.  There were many beautiful bright colours with exquisite detail. The male outfits had a strong noble feel as they walked to the end of the runway. My favourite dress was a cream coloured outfit with long steamed, closed orange roses with orange trim and matching sleeveless rose top.  The open back and the movement of the gown was flawless. 
I loved this entire collection. 
Zapato Sanchez - Men's Shoewear
Who doesn't love shoes especially a classy men's shoe with fine craftsmanship and attention to great detail? I truly loved the fact that this amazing line was breaking rules, but kept style and class paired with pops of colour, pattern and texture.  
Each shoe told a story of adventure and whimsy.   Kazper's pick was a black leather and multi-coloured combination: "They were different and fun like nothing I've seen before and well made too." Perfect shoes for stepping out of the box for any true gentleman.
Designer's Den by Esha - Calgary/ India
Long flowing hair paired with soft and elegant makeup on the eyes and pale pink on the lips was a simple, yet sophisticated look.  Dreamy East Indian music took us to a far off place where clean lines, beautiful fabrics and more colours than can be found in the rainbow lived.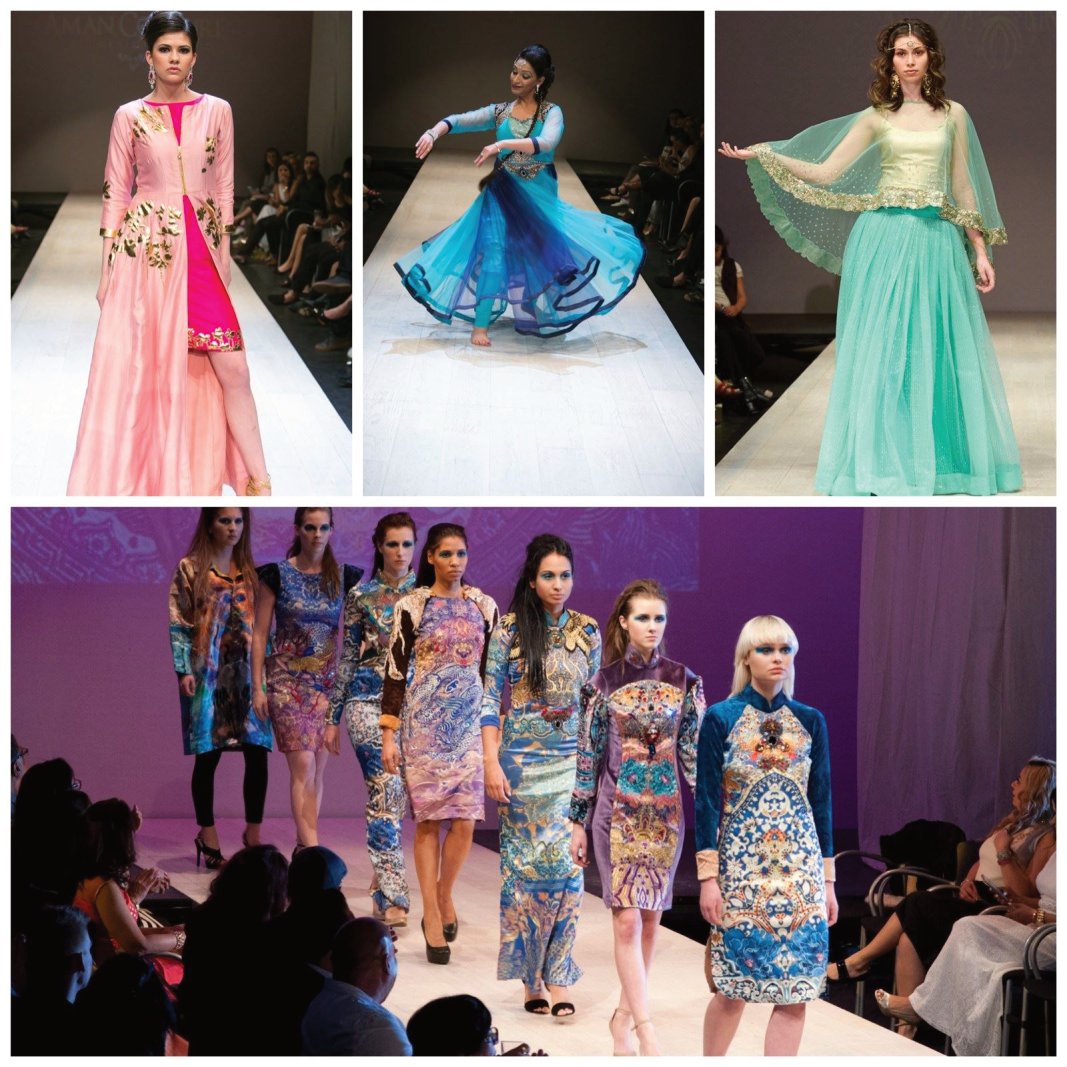 Hulos by Huy Hai Long - Vietnam
Unfortunately the designer was not able to make it to Canada in order to be there with us, but fortunately their amazing collection hit the runway without a hitch.
It was, by far, my favourite collection of the night with bright colours, patterns, pictures and textures to treat the eye.   Each piece had its own story embedded in jewels and pictures. Long and short fitted dresses hugged each model as the amazing art work walked the runway.
Two oversized coats were presented in this collection and I'm a fan of the big comfy fashion oversized coat.  That's all I have to say about that. I loved a black jacket with patterns across the shoulder and front side which was very different.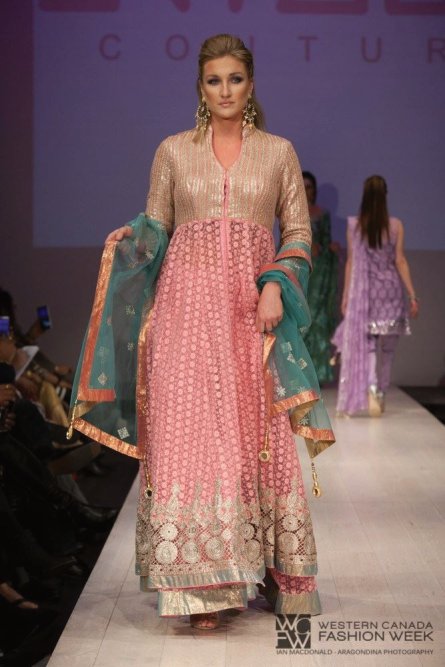 Nazalia Couture - Edmonton, AB/ Phoenix, AZ/ India
Pants and tunics of sheer fabrics and shimmering tones with gorgeous saris and crop tops were a fine way to finish the evening.  The makeup was a soft smokey eye with winged liner, nude lips and subtle contour.
______________________________________________
Thank-you to the awesome WCFW photographers.  Check out some of the other amazing shots taken from the event at
Flickr
.
Image (left to right): Kelley Rosborough (Aman Couture); Lindsay Thompson (Designer's Den); Lindsay Thompson (Aman Couture); Kelly Rosborough (Aman Couture)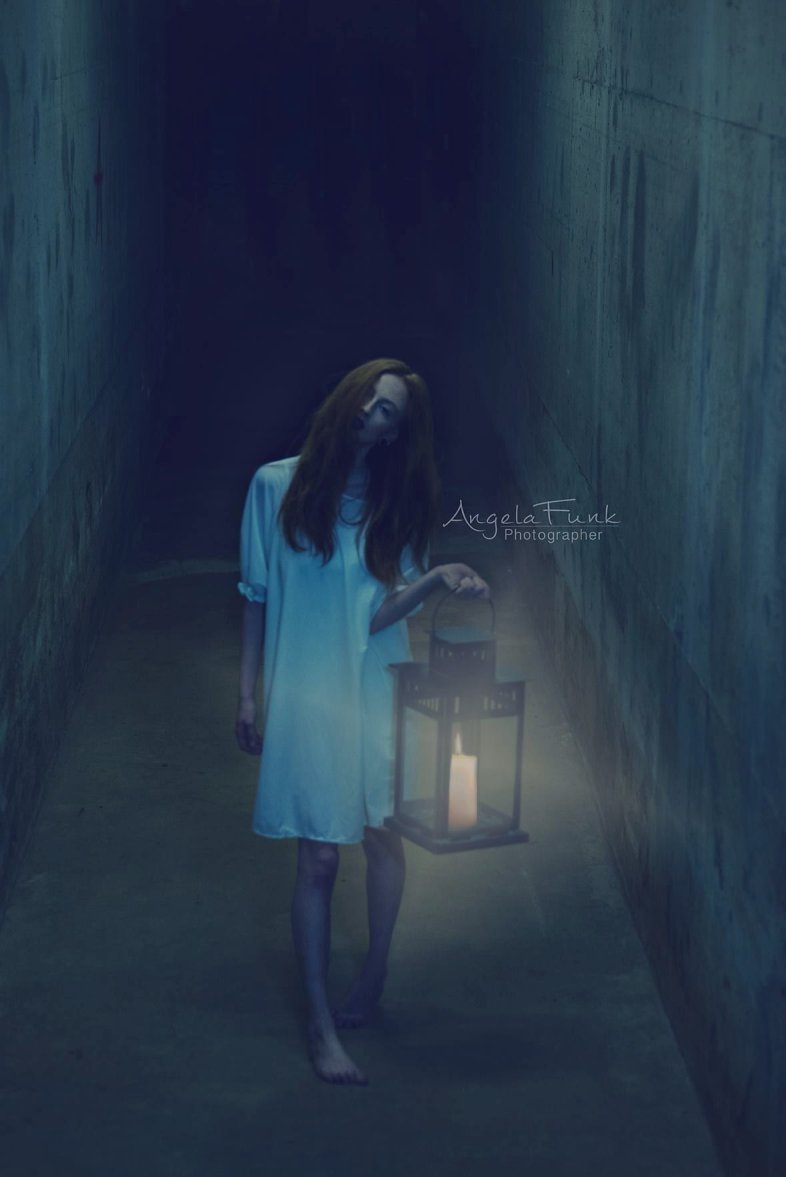 OMD4 Meet-N-Pose -
Day of the Dead
Edmonton 2015
____________________
Old Londonderry Cinema
November 1, 2015
OMD4 Meet-n-Pose (MNP) was back in action Sunday, November 1 in Edmonton, AB.  A late location change saw us back at the old Londonderry movie theatre (thank-you to Darin Wayne for the last-minute save).
Meet-n-Pose is an event organized by OMD4 Makeup & FX and is an opportunity for photographers, models, makeup artists, hairstylists and designers to get together to build their portfolios and network  with others in the industry.  The event is open to new or experienced individuals.
The original plan for our
Day of the Dead
theme was to shoot at an abandoned farmhouse and homestead near Bruderheim, AB.  Unfortunately, accessing permits and getting permission proved difficult.  Oh, well! 
C'est la vie.
  We haven't given up on the location.  Fingers are crossed for September 2016.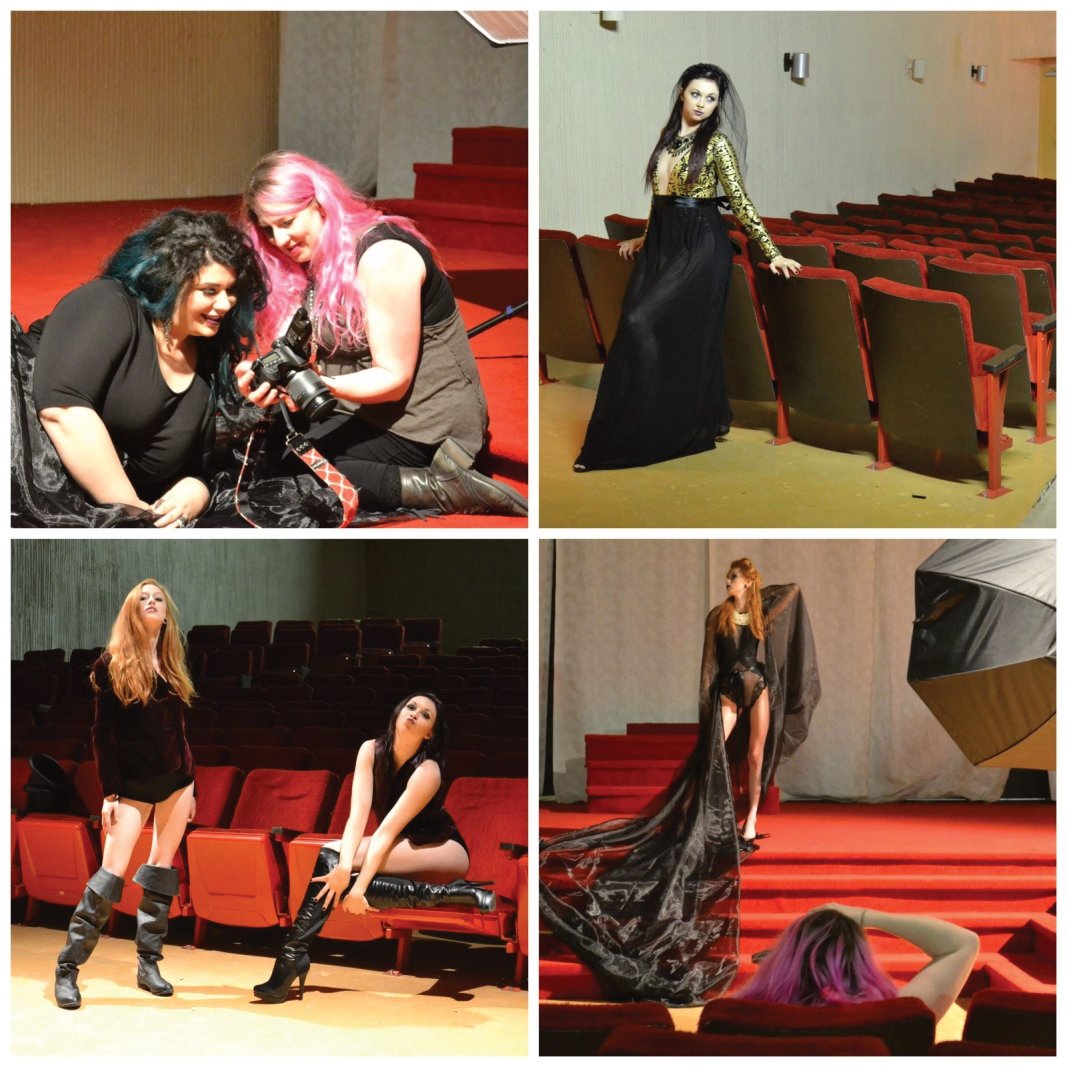 Typically the MNP events do not have a specific theme, but since this one took place on the day after
Hallowe'en
, also known as the Day of the Dead, the artists involved opted for darker concepts and colours.  Surprisingly enough no one used concepts around
sugar skulls
; however, there were plenty of beads, masks and top hats along with black lace, chiffon and capes.
A great big shout out to our three fabulous photographers:
Darin Wayne
,
Lisa Lovallo
and
Angela Funk
.  Finished images from the event started to appear within hours of the event wrapping up.  There are so many wonderful pictures coming out of this photoshoot.  Wish they could all be shared here, but the ones shown below should give you an idea of the quality being produced.
Models                         Makeup or Hair          Photographers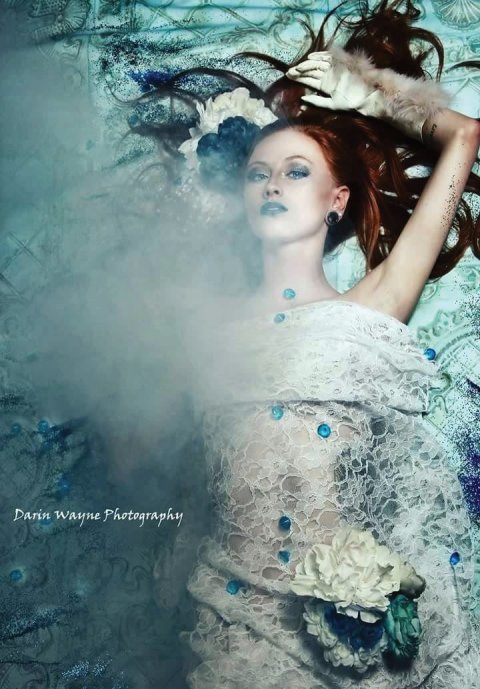 Toni Shenfield
Olivia Marie
                 Angela Funk
Thank-you to everyone who participated and made this one of the best Meet-n-Pose events yet.
The next Meet-n-Pose will take place March 16, 2016 to celebrate three years of MNP.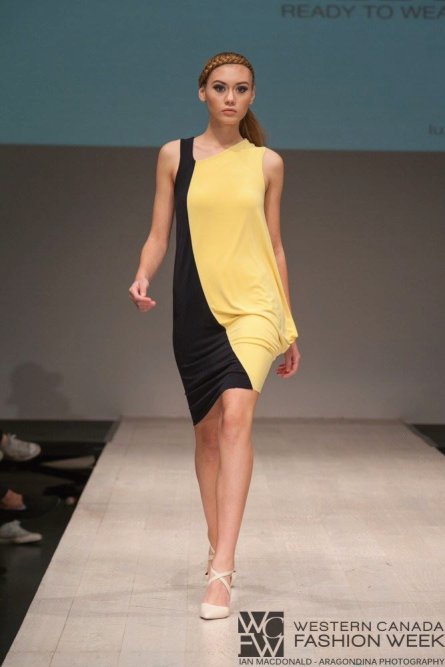 Western Canada Fashion Week
Local Collections

____________________
September 23, 2015
Edmonton, AB
Wednesday's Line Up

This time around I focused on blogging instead of makeup. I didn't take any makeup work this season. I have to say I truly enjoyed seating there watching rehearsals and everyone running around to get things ready.
We started off with a short video from
Janelle Brown
, winner of Spring 2015 Emerging Designer, about what inspires her and how she got into fashion.
Comfy Chic with New Classic Studio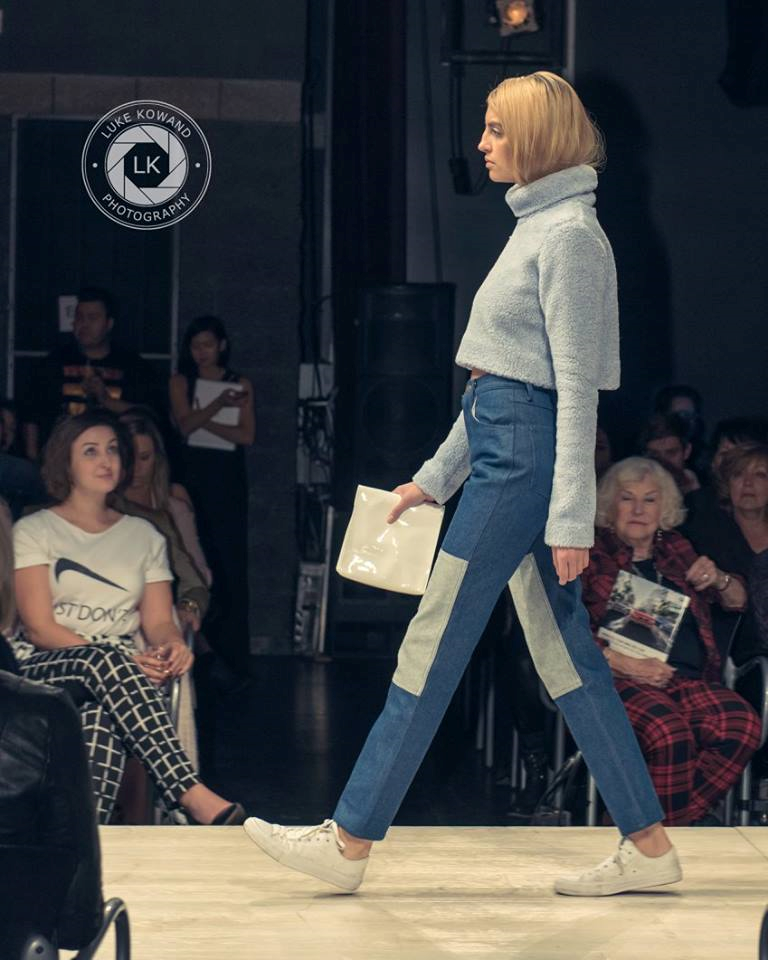 The first to take to the catwalk was New Classic Studio with their line of very comfy loose-fitting dresses and high-waisted pants. Some outfits had an air of private school about them with the collared shirts and lunchbag hand bags.  Others made me think of a big comfy chair, a good book and hot chocolate.
My favorite thing about this line was the light blue and black oversized coats.  I would wear one for sure. The makeup look for this one was a natural look with copper highlight on the cheeks, which was the perfect touch.
New York Underground with Suka
Next up was Suka and I truly loved this line with its high fashion NY Underground feel: boyfriend jeans, cropped tops and leather skits. Each outfit had style and excitement.
The makeup was pale purple lips with rosey cheeks and clean eyes. The touch of grey steaks really brought it all together.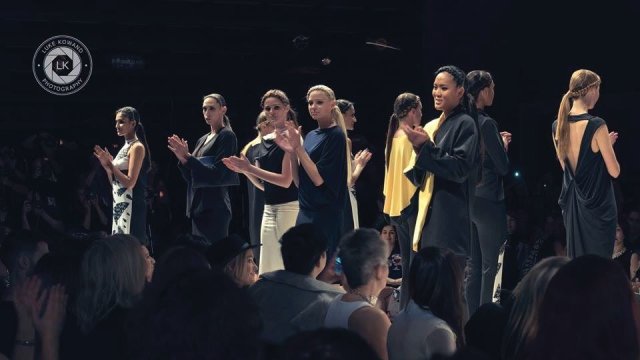 Hit and Miss with LUXX Ready-to-Wear
LUXX Ready to Wear strutted the catwalk with a smoky eye and a nude lip paired with hair braided around the head. 
The collection used clean lines with a few simple patterns and the Aboriginal-inspired music selection partnered nicely with the super sleek looks. 
While it was not my favourite collection, I did love the clutch handbags with arrowheads and teepees.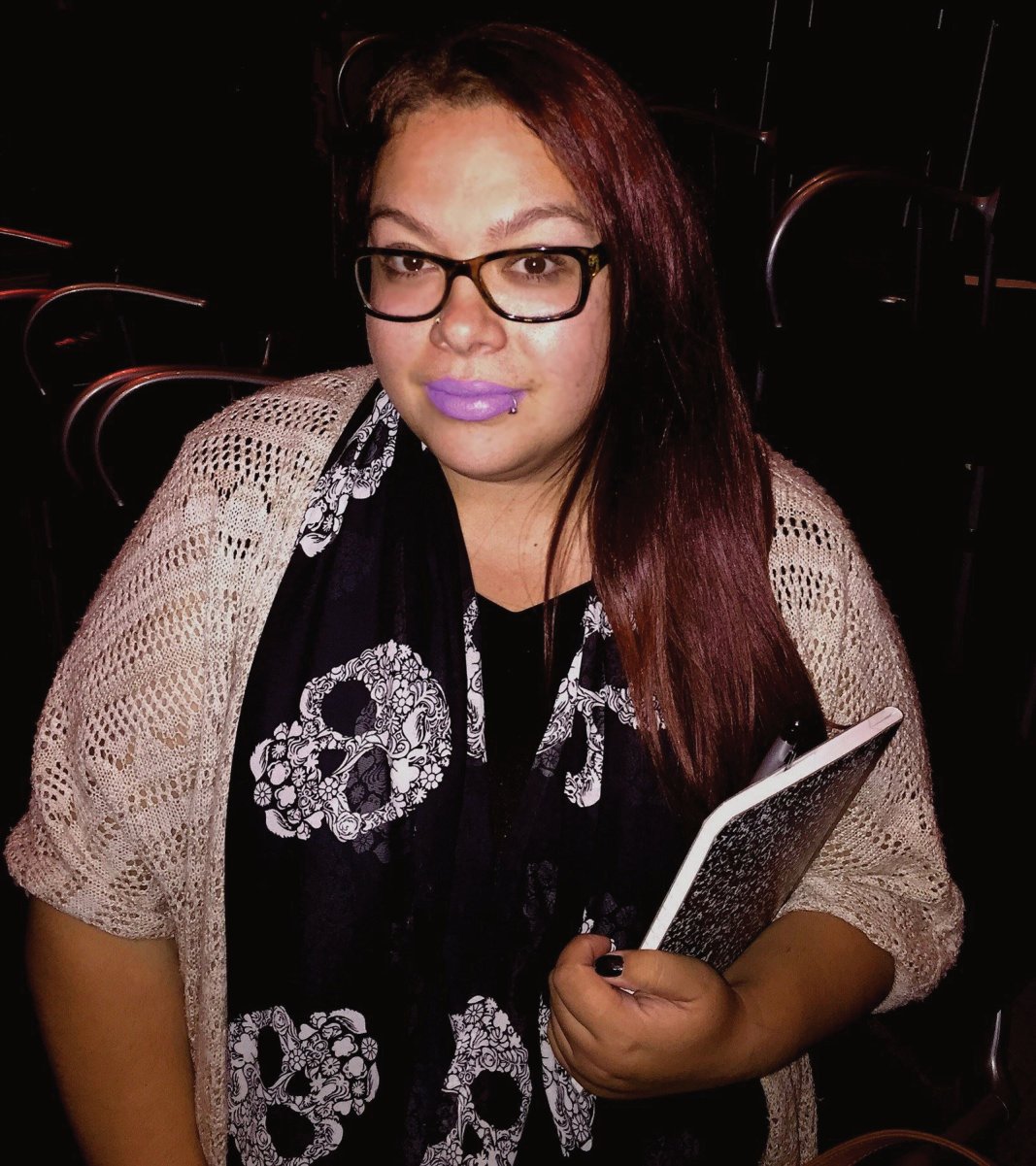 It was a short show, but the energy was high. I look forward to see what
these designers have come up in the near future.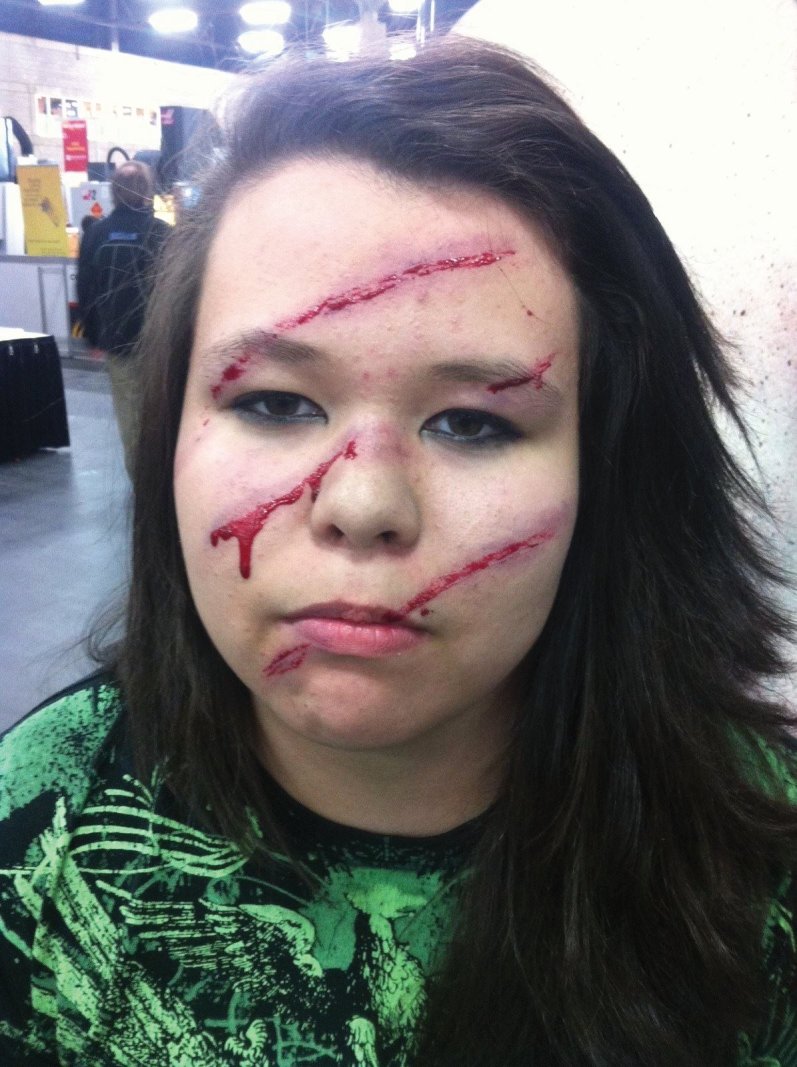 Punctures and Gashes and
Wounds ... Oh, My ______________________________________

Skills City Trade Show with the
Blanche Macdonald Centre
May 10, 2015
Edmonton, AB
     At last year's event I got to work with my dear friend Karissa Makowecki, but on May 10, 2015 I joined fellow makeup artist and new friend 
Tammy Neron
at the Edmonton Expo Centre where kids and adults alike lined up looking for gory special effects and beauty makeup.
     With over 250 people wanting cuts, blacks eyes, busted lips, claw marks and more we didn't get to socialize much with each other, but we had a blast.
     The best part of the event was seeing people who remembered me from last year and said the were excited to see me back.  
     One parent got in line with his kids and they had waited almost an hour.  He wanted claw marks across his face so I made him look pretty messed up: gashes, blood, the works.  I had no idea what he was up to until he came back the next day (after paying a second admission) to tell me about the trick he played on his wife.  Turns out he laid down beside the lawn mower with his bloody face and when she came home he said she freaked out and almost called 911.  He just had to come back and tell me how good of a job I had done. It was then I realized people love what I do and it made all the hard work and frustrations feel worth it.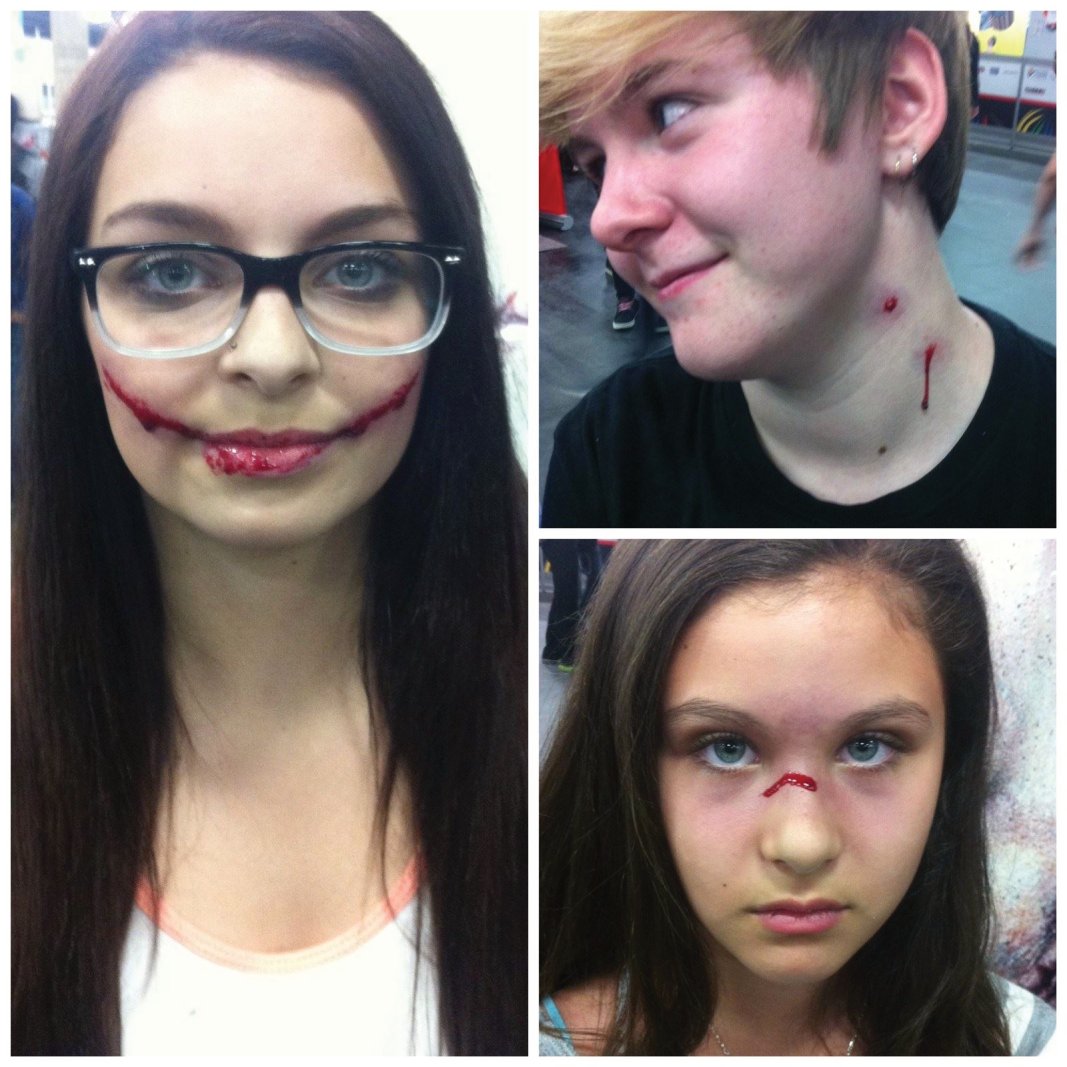 Tammy kept just as busy doing beauty makeup for the hundreds of girls who wanted bold lips or eye colour.  Even a couple of guys showed up. We really nailed it this year.
I love doing these trade shows because of the new BMC grads I meet. Not to mention the fact I got to do gore makeup non-stop for two days. We all have a common bond and need to stick together and as we grow as artists. 
How can I not love every day of this job? 
I'm very proud to be Blanche Macdonald Makeup Artist.  Thanks again BMC for asking me to part of this event.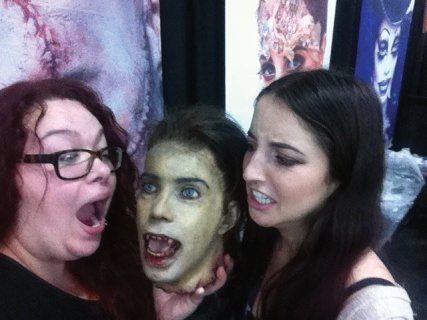 Rocky Mountain Entertainment Agency
Billings, Montana
April 18 and 19, 2015
_________________________
This weekend's workshop drew a mix of both models and pageant girls looking to break into the industry or build their portfolios and OMD4 Makeup & FX's Olivia Morley was there to handle the makeup for two days of photoshoots with photographers
Merrit Olsen
and
Brittany Putnam
. 
Nursing student and model hopeful Kendra Fournier, 20, attended the workshop after hearing about it from a friend.  She said: "There was a lot of new information thrown at us.  It's a little intimidating, but I'm happy to be here and am just taking it all in."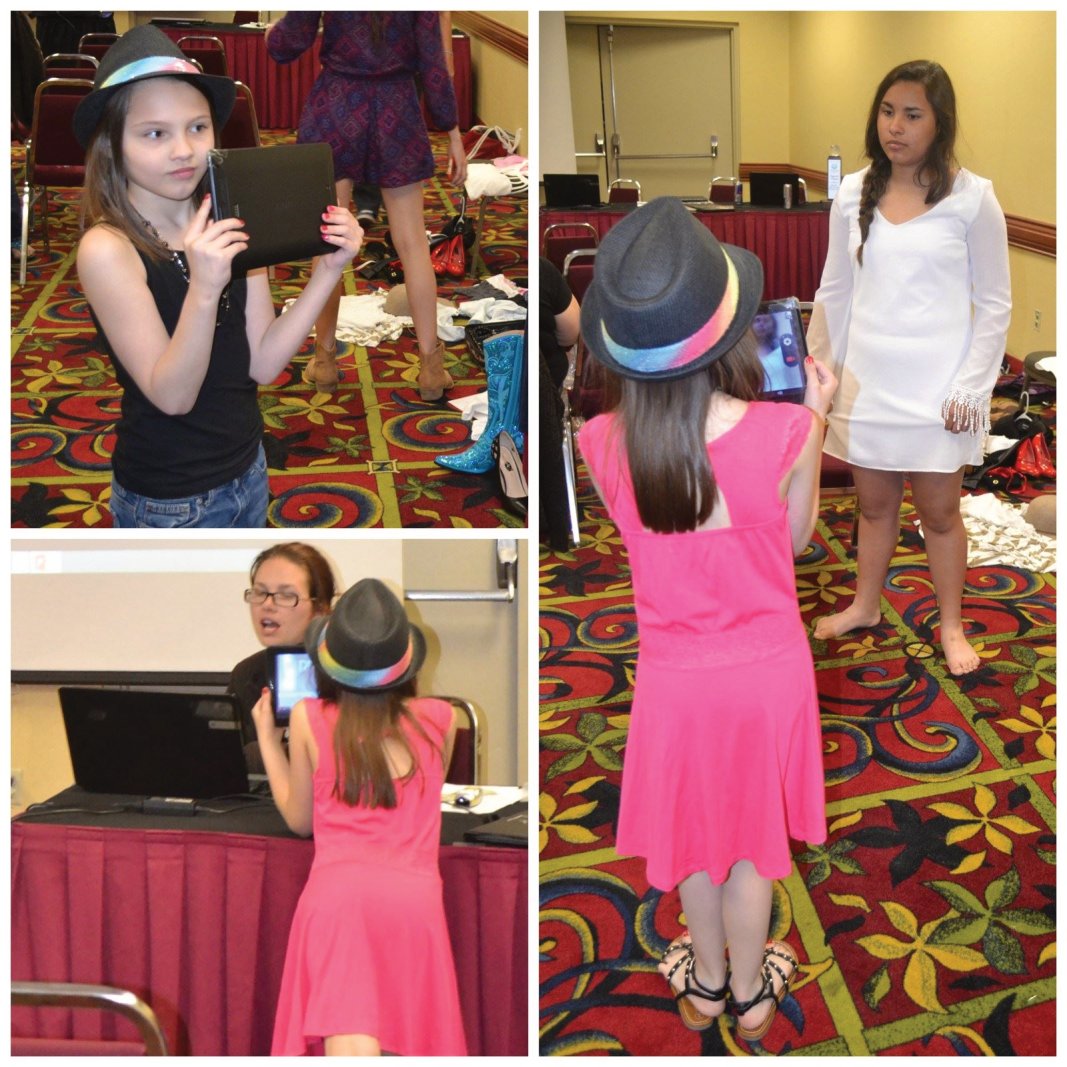 Some of the information the models received came from Stephanie McLain who delivered a session on strategies for preparing for a pageant, including interview tips and shared some advice with the models when working with designers and other potential clients.  She said: "Work with people who know the business and those you can trust.  Surround yourself with positive people and have fun."
She also suggested that neutral or clear nail polish and simple, clean-looking makeup is best when interviewing with a designer.  Personally, as someone who owns 67 colours of nail polish (most of which are rather bold), the idea of a nude shade is a little scary; however, Stephanie said it's important for people to remember your face, not what colour your nails wore.
The youngest model in attendance, Harlee Holster, 10, was accompanied by Mum, Sarah Widener and this budding model may also have a career as a journalist.  With tablet in hand, she spent her down time interviewing other models which she hopes to upload to YouTube as video shorts.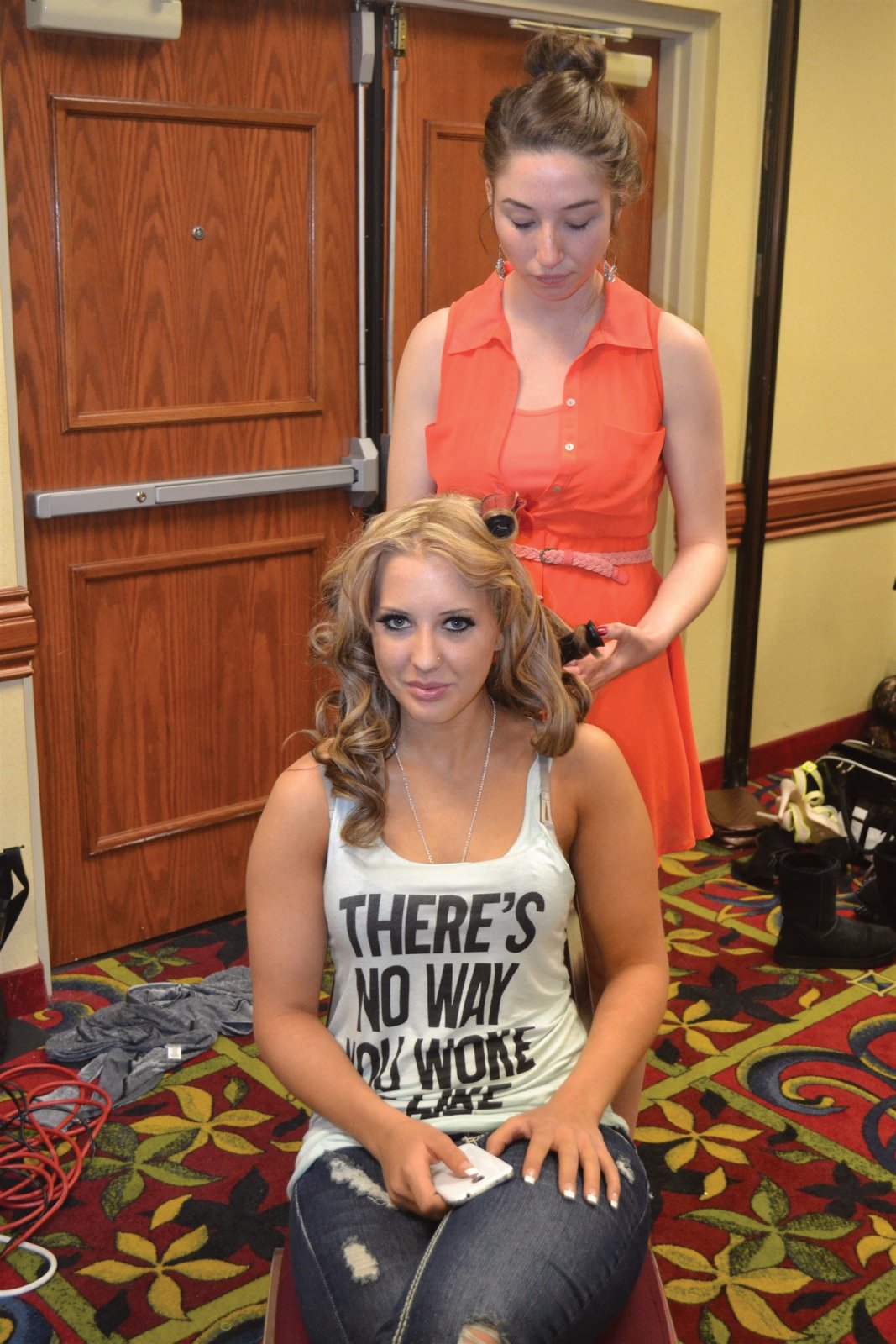 Tamara Hammond, 20, is both a model and pageant girl and was at the workshop to shoot a few required photos for upcoming events like the

Miss Montana USA

 pageant taking place in Missoula this autumn.  

RMEA

's models are in demand and several have secured contracts all over the US and overseas.  15-year-old Michala Zambon, who has been modelling since she was little and has been with RMEA for two years, will be heading to Europe in a couple of weeks to take part in the

Cannes Fashion Festival

, which is connected with the

Cannes Film Festival

.




Michala will be walking the runway for

Jaime Elyse Couture

, a designer she recently worked with during LA Fashion Week.  About heading overseas to work she said: "It's really exciting.  I really love what I do."




Once again OMD4 Makeup & FX was privileged to be part of this event where we had the opportunity to work with such talented individuals and we are looking forward to working with RMEA again in Polson, MT during their summer camps.
















0

/