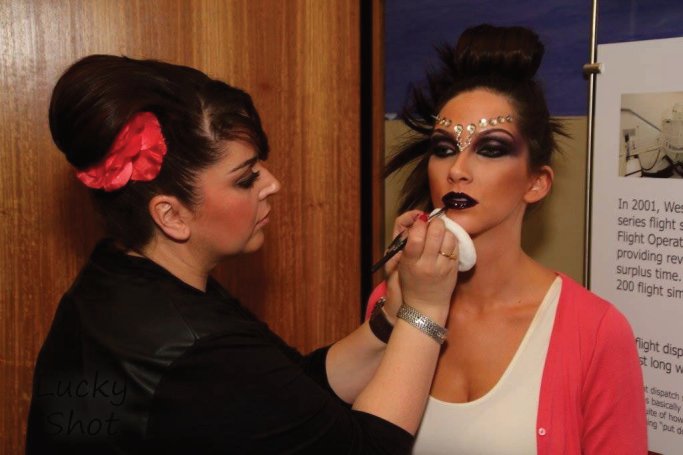 Debra Kelly: The Artist Behind the Makeup
______________________________________________________
While you won't find Debra in front of the lens (she's a wee bit camera shy), it is her creative work that is often front and centre.  Whether it's an outstanding makeup concept or an exquisite paper dress, your jaw is sure to drop.
Her work has attracted much attention and she will be one of the featured artists at
Grandeur
, a showcase event hosted by
RAW
on March 5, 2015 in Calgary alongside fellow MUA
Sandra Makarewicz
and other talented artists.
In 2014 her makeup work could be seen in both the November issue and Swimsuit Edition of Elléments Fashion Magazine and seeing her work published was an experience to remember.
"When I found out it would be published, I was like, 'Woo Hoo,' that was the fun part and when I actually saw it in print I was like, 'Wow'.  Then I thought 'Is this it?  Have I made it?  Is this the real deal?'  It was Who Hoo and surreal all at the same time," she said.

There is no doubt that Debra is in high demand these days, but it wasn't always that way.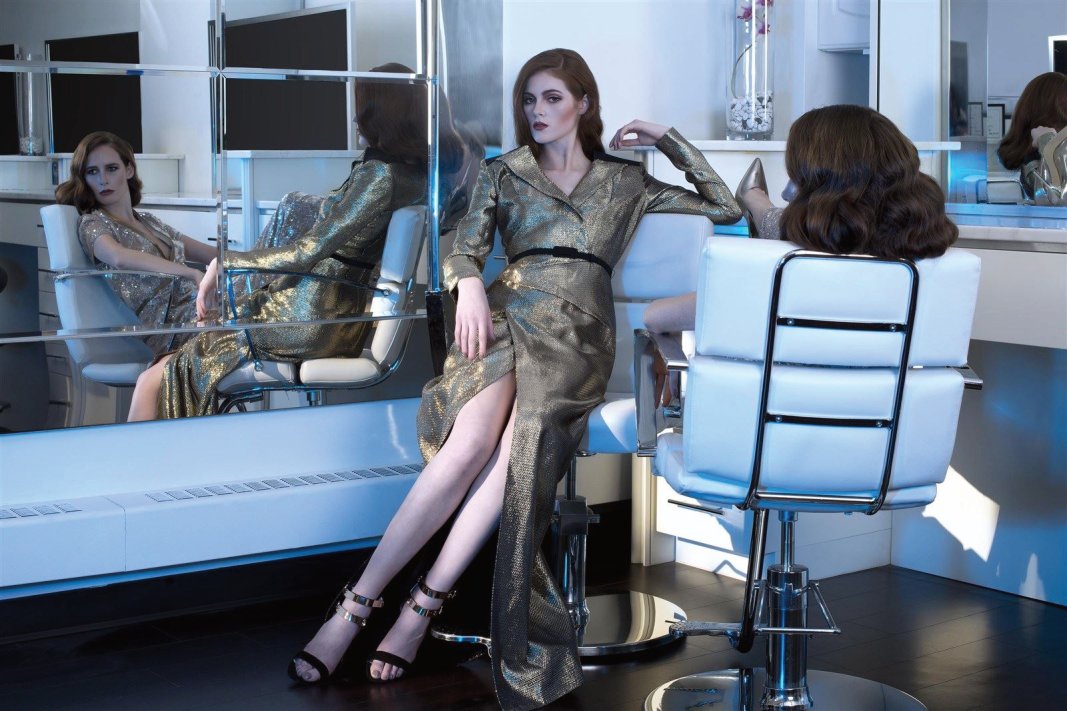 Seen in Elléments Fashion Magazine November 2014 issue
In the Beginning ...
Debra and her family (that's hubby and three kids), move around a lot because of her husband's job and have gone from Australia to Holland to Brunei where her professional makeup career really started, before landing in Calgary, Canada.
Despite gaining experience in Brunei, Debra found herself with few industry contacts once she moved
to Calgary. 
She said: "I did the 'ole creep on Facebook and looked at pages for photographers and models just to try and make connections.  For my first marathon photoshoot I messaged models saying, 'I like the look of your face, can you model for me?'"
To start with she did a lot of free work just to build up her portfolio and meet other people in the industry.  She also took advantage of some educational funding to gain international certification as an MUA from
Artists Within Makeup Academy
.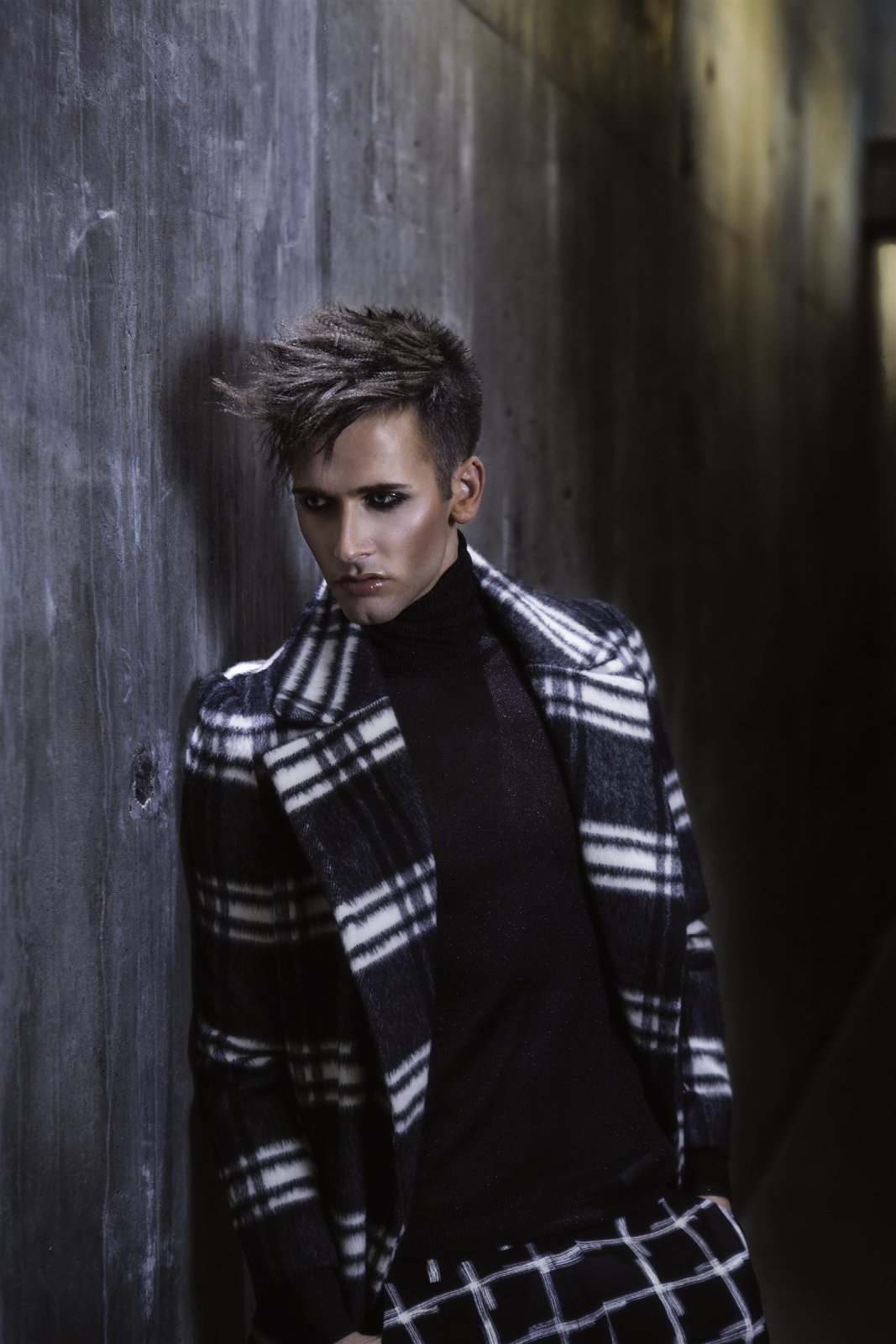 She has worked on photoshoots, television, stage, fashion runways and charity events like a Mother's Day makeover for kids dealing with cancer and has sometimes worked with local celebrities.
"I've had a few high-profile people in my chair, but I don't treat them any different than the girl next door.  They are my canvas and I'm going to do what I can to make them feel good.  Then again if I had
Kylie Minogue
in my chair, I'd probably be shakin' in my boots."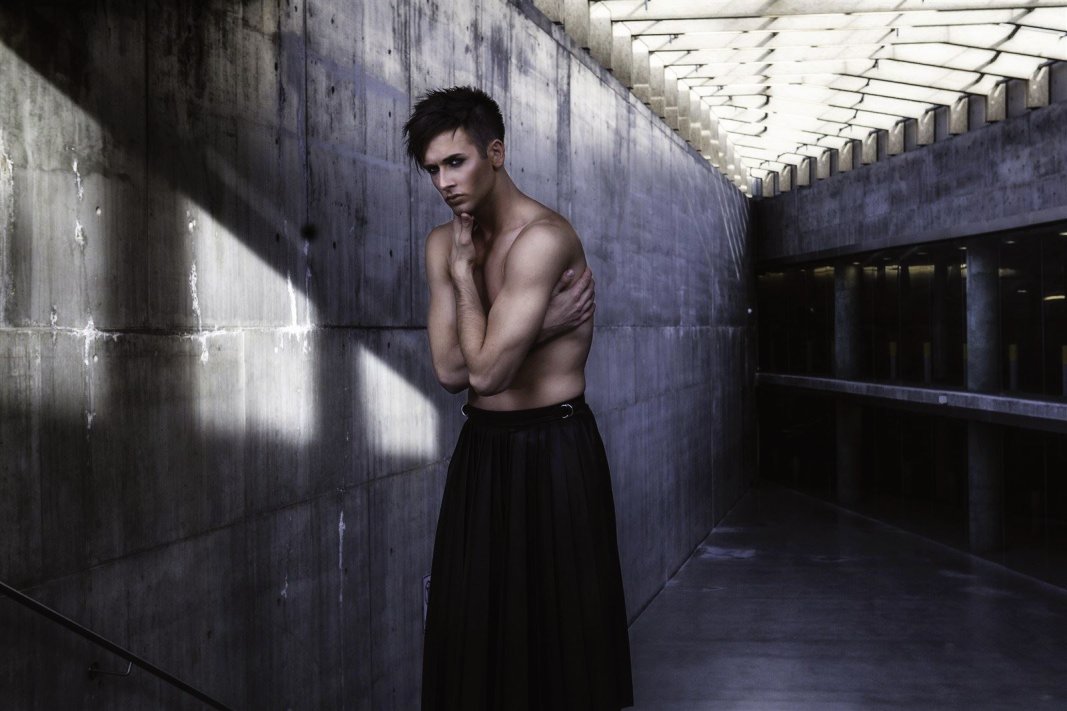 And then there's the paper dresses
"I go off on tangents sometimes and get all crafty just to keep my hands busy and then I think how I can use them in a photoshoot.  That's where my paper dresses came from.  I never thought in a million years that people would respond to them." 
On one such occasion Calgary-based fashion designer Erikka Moojelsky, aka
Miss Neïd of Neïd Studio
, approached her about doing the makeup for a personal glamour shoot.  Initially she was going to sit on stacks of fashion magazines for the shoot wearing one of Debra's paper dresses, then it was decided that Debra would make a dress using pages from fashion magazines with folding help from Miss Neïd.  The result speaks for itself.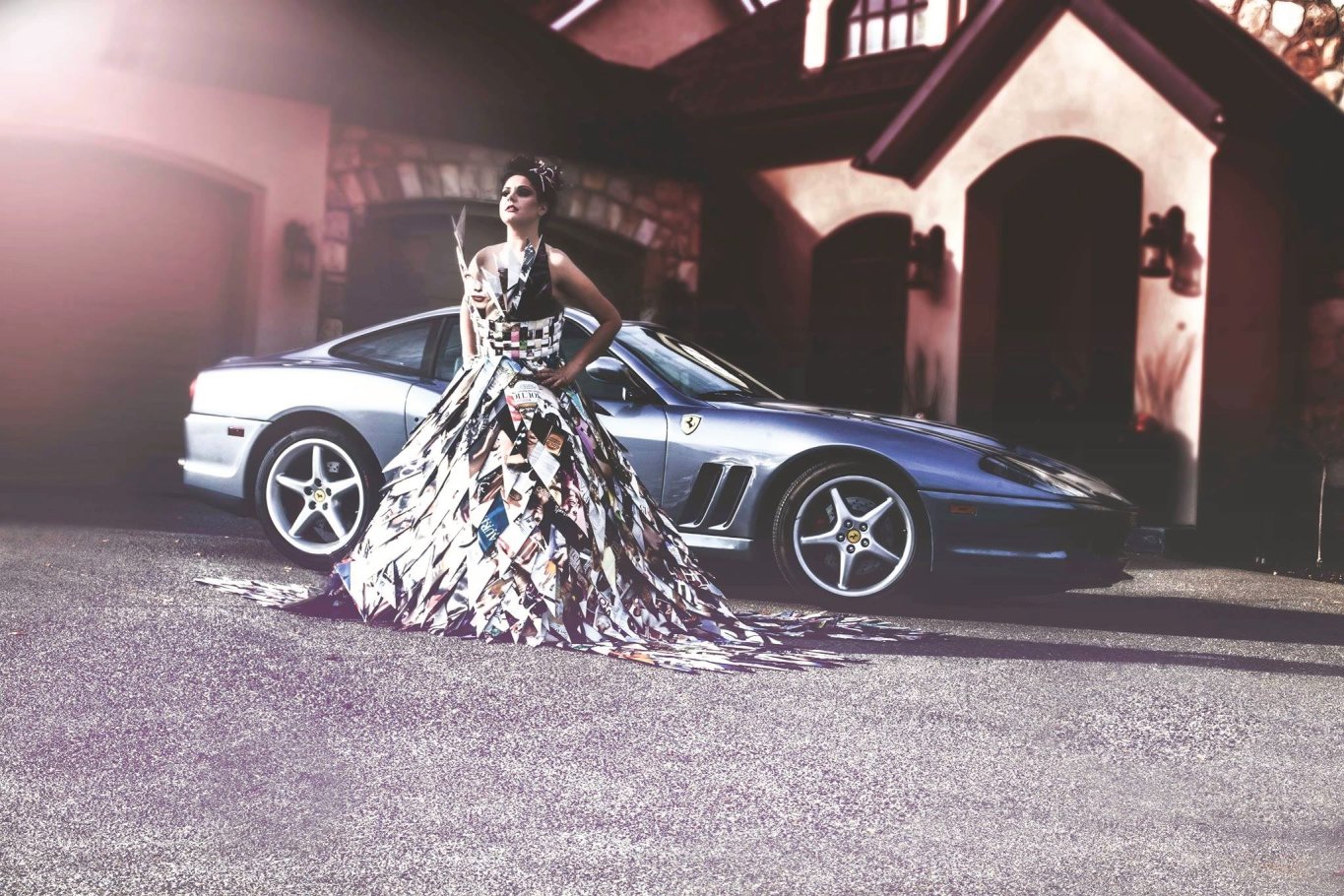 Debra's biggest inspiration is British photographer
Kirsty Mitchell
, in particular her
Wonderland
project which began as distraction from overwhelming grief after the death of her mother, but turned into a journey of healing lasting five years.
"She is a one-stop-shop," she said.  "And if I could do anything half as good as that woman, I'd be wow.  She does set, costumes, concept and then shoots it.  She is stunning."
Cheaper than paying for a shrink
Debra has big plans for the future which began recently with the launch of a makeup school of her own.  She wrote a two-volume course that combines the flexibility of an online certification, with the hands-on, real-world experience of an in-person class.  
Those studying the program cover theory and hygiene before learning about different applications and make their way through a workbook designed to help them evolve as an artist.  Answers can't just be found with a quick dirty Google search.  Her students will have to go out into the field to learn about the products and observe others.
"I'm not saying I want world domination, but if I can inspire even a few makeup artists a year, that's enough for me."
Her kids may not always be happy with Mum keeping so busy and while spending time with her family is a priority, Debra has no plans to slow down.
"I think it's good for them to see Mummy working.  They won't see me at home 24/ 7 washing and ironing.  I want to be a role model.  I'd go crazy staying at home.  Doing what I do is like my therapy when I get irritated and antsy.  Sometimes I just need to head upstairs, pull out the glue gun and start making something. 
It's cheaper than psychiatrist bills."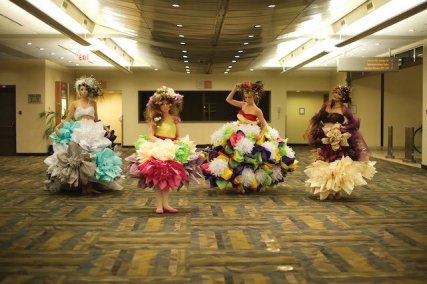 Winter, Spring, Summer and Fall, the Amazing Debra Kelly created them all.

From hockey player to photographer, Montreal to Calgary (with a stint in Europe) Jackie Duncan is carving out a name for herself in the world of fashion photography. 
Between her hectic photoshoot schedule, moving into a new house and working with
Sophia Models International
she found time to answer a few questions for
Making Faces
.
The Art and the Artist
"My eyes are drawn to black and white when I go through the editing process. I love the quote: 'When you photograph people in colour, you photograph their clothes, but when you photograph people in black and white, you photograph their souls,' by
Ted Grant
.  
"The photographer I look up to the most is
Lara Jade
.  I love the elegant simplicity of her work. She is a huge inspiration for me as a person and as a photographer.
"As most people who know me know, I don't sleep much. I do my emailing, phone calls and photoshoots during the day and I do my editing at night until two, three, four or even five o'clock in the morning. My schedule is odd, but it works for me.
"I do a good 90 per cent of my editing in bed. I don't even think having an office would change that. I listen to any music that is energetic or that I can sing along to, but you wouldn't want to be around for the sing along songs. I don't have the greatest voice."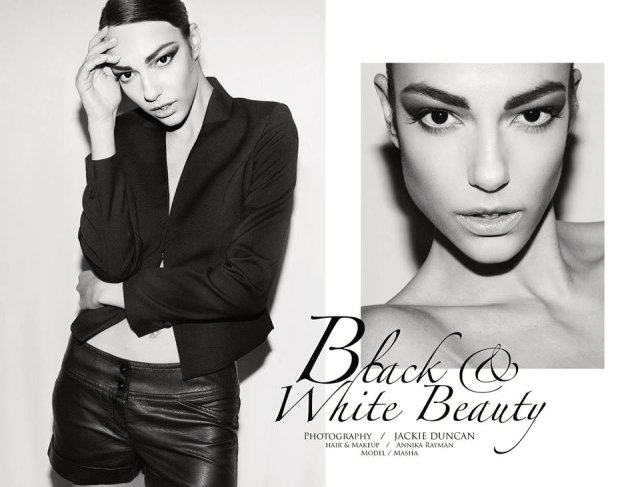 Getting Started
"Growing up I was always artistic. I mostly drew and painted, but I remember stealing my Dad's camera and taking pictures a lot.
"My first camera was my Dad's old
Canon
RebelX. Since then I have collected a lot of old film cameras.  My favourite being the
RICOH
I bought in Vienna for one Euro (approx $2.00), but the camera I use now is the Canon Rebel Xsi. I've had this camera since 2009 and don't plan to upgrade anytime soon. I believe it isn't about how good or expensive your camera or equipment might be. It is the artist behind the camera that makes the shot."
Hockey and Fashion
Despite attending
Providence College
on a Division 1 hockey scholarship, "I have never been interested in sports photography. Maybe because I spent a huge chuck of my life playing sports my artistic side ran away from it.
"I love photographing people and making them look amazing and with fashion photography you can push the boundaries.
"My passion really grew while I was in College. My sister and hockey teammates put up with a lot of horrible makeup and crazy ideas so I could develop my skills.  I learned how to take pictures through trial and error."

Finding Love Overseas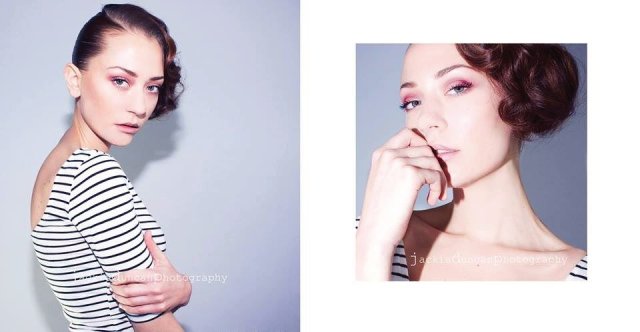 "I've always had a desire to travel and play overseas. After a year of working post College I dropped everything and bought a ticket to England.  I went there because of the accessibility to Europe, no language barriers and I was able to work on a Tier 1 Visa. 
"It is very hard to pinpoint one place as being my favourite as I had the privilege of travelling to so many different countries, but I guess it would be Venice.  It's just such a unique place with so much character and history. I can't wait to go back one day.
"Returning from England I brought back a large souvenir, my boyfriend Daniel. I knew I couldn't return to Montreal where I grew up because neither of us speak French well enough to get jobs. My sister and her boyfriend moved to Calgary after graduating University and knowing she would probably stay here long term, Daniel and I figured we would try it out too."
What's Next?
In the next few years, "I would like to be married, with a child, flying around the world in a private jet taking pictures.
"We can all dream right?"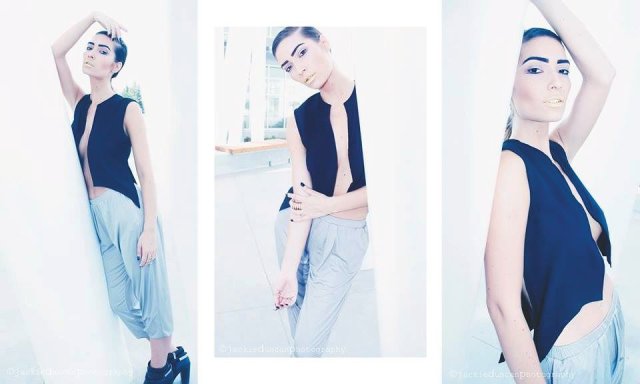 Jackie Duncan Photography








0

/