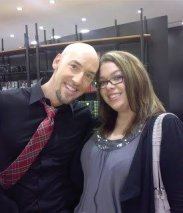 MAC Pro Class with Victor Cembellin
_______________________________
You've heard of Throwback Thursday, well this is Memory Monday and I'm going back to before I went makeup school and before I became a Sephora girl.
Not only is Victor Cembellin hilarious, he is also very talented. He talked a lot about trends that were going on at the time.  Trends are not something you like or may not be looks you would use on yourself or others.  They are often made popular by celebrities.  Trends come and go and many will make a comeback years, sometimes decades later.  In this class Victor spoke of four trends, but I want to talk about one of them here:  the raw/ natural look.  (This still applies today as the no-makeup makeup look is very popular.)
This look was all about making the skin look flawless with very little makeup.  It's more about skin care products then the makeup itself.  Victor said this look is good if you are waiting at home for something from UPS and you don't want to apply a crap load of makeup, but you just never know if Mr. UPS is a hottie.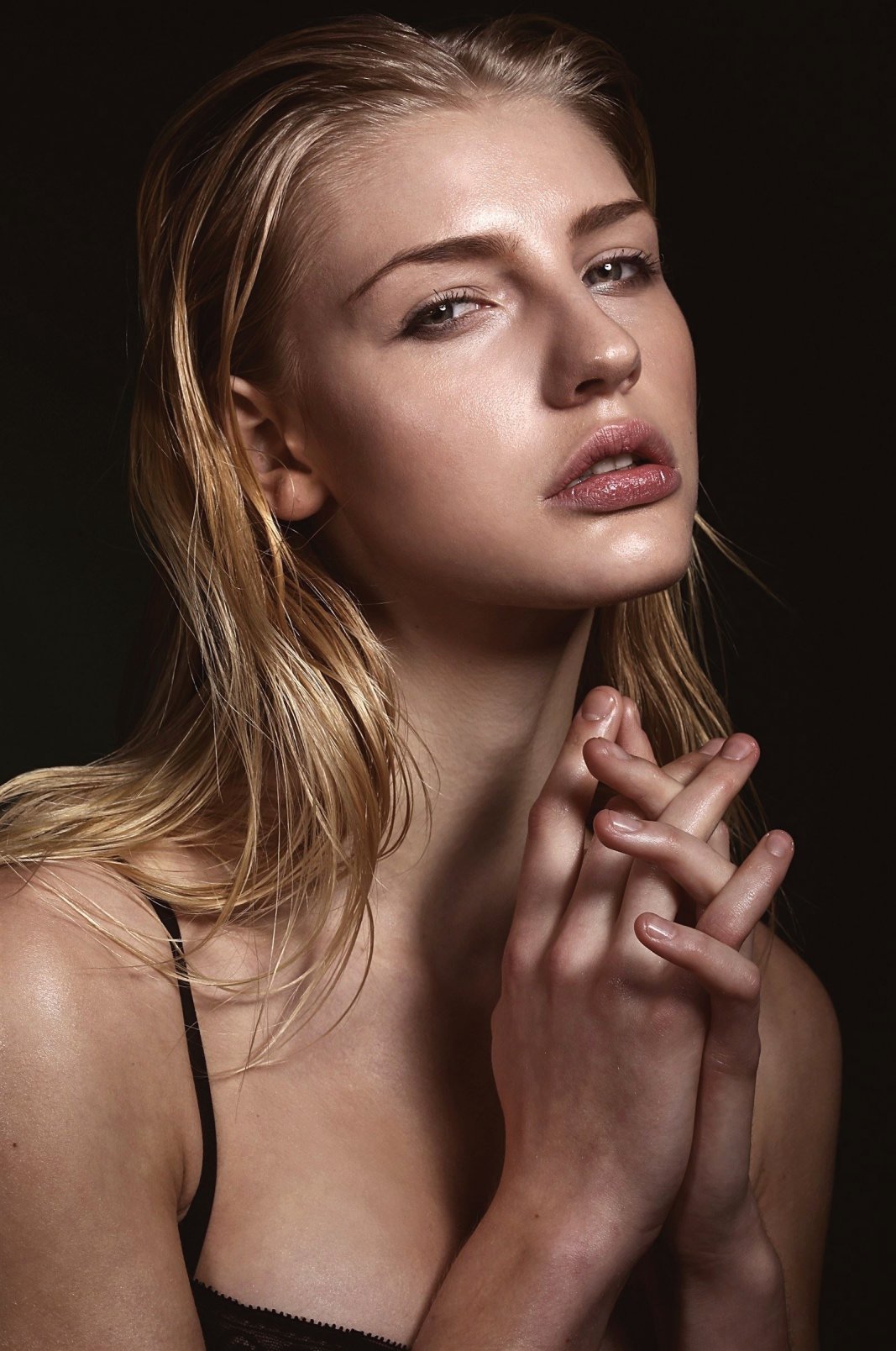 Get the Look
Start with MAC finishing spray or M.A.C wipes over the entire face.  I prefer the finishing spray, but the wipes are a cleanser and toner in one so you save some time by using them.
If you have some dry patches on your face, use a skin brightening serum.  I like to put this on areas around the nose and outer corners of the eye which I find gives you a beautiful bright eye effect.
I don't expect anyone to go run out and grab the items I'm using in my posts they are just recommendations of products I use and love; however, I HIGHLY recommend you buy brush #130 from M.A.C. or brush #56 from the Sephora Pro collection.

Place a small amount of  M.A.C essential oils in your palm and smooth over you face and then do the same with a moisturizer. 

If you are doing this look on yourself or a friend, you can just use your fingers for the next step; however, if you are doing this for a client I would recommend using a sponge.  Also, remember if you are using your fingers always use the ring finger to apply the eye cream as it has the least amount of pressure.  My favorite product for under the eyes in Vasanti's Eye Wonder which you can get at Rexall Drugs.

Victor emphasized the fact your lips are skin too and sometimes they get left out in the everyday skin regime. M.A.C. carries a lip conditioner.  Using the #130 brush apply it over entire lip. 

I know.  You're wondering when do we actually get to use make up with this trend?  Just remember that a beautiful base makes a beautiful face.  (I came up with that all on my own.  Ha, ha.)
  TIP: Don't forget your lips.  Keep them hydrated and exfoliate often.  Removing the dead skin on a regular basis will help give you the perfect lip. 
Foundation Time
Again with the a brush apply your foundation, but think of your brush as an eraser more then just applying a bunch of foundation.  Your skin should be hydrated and as you apply it should just smooth over your skin.  Don't forget to cover the eye lids as well.

If you add mascara, only a apply a small amount on the top lashes maybe bottom like I like to do.

Voila!  You are done.

 XoXo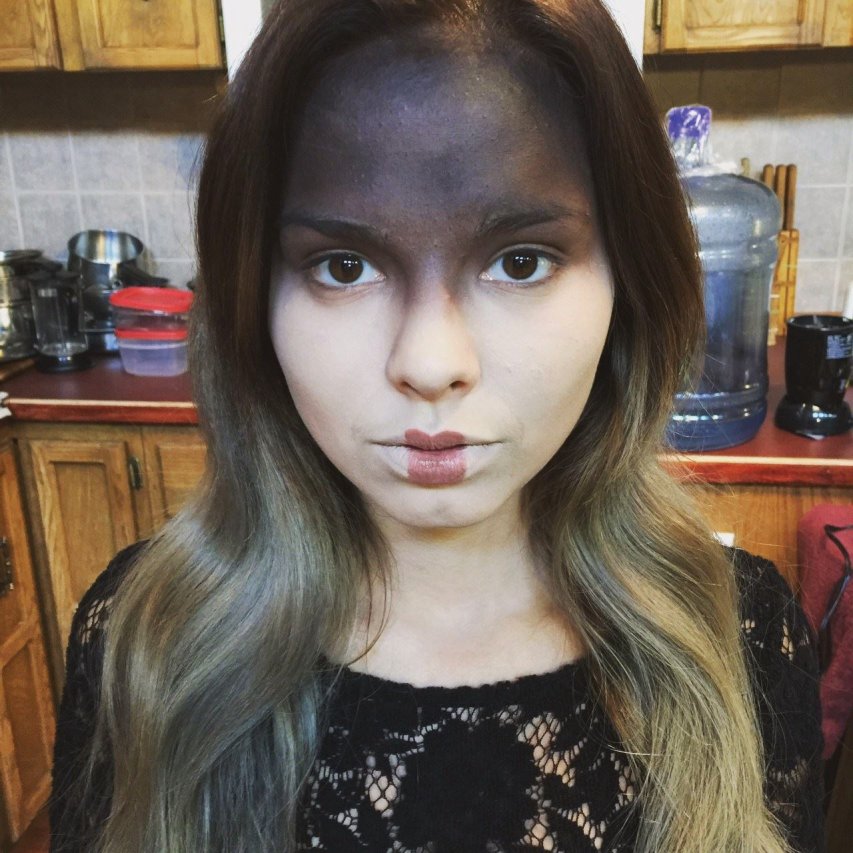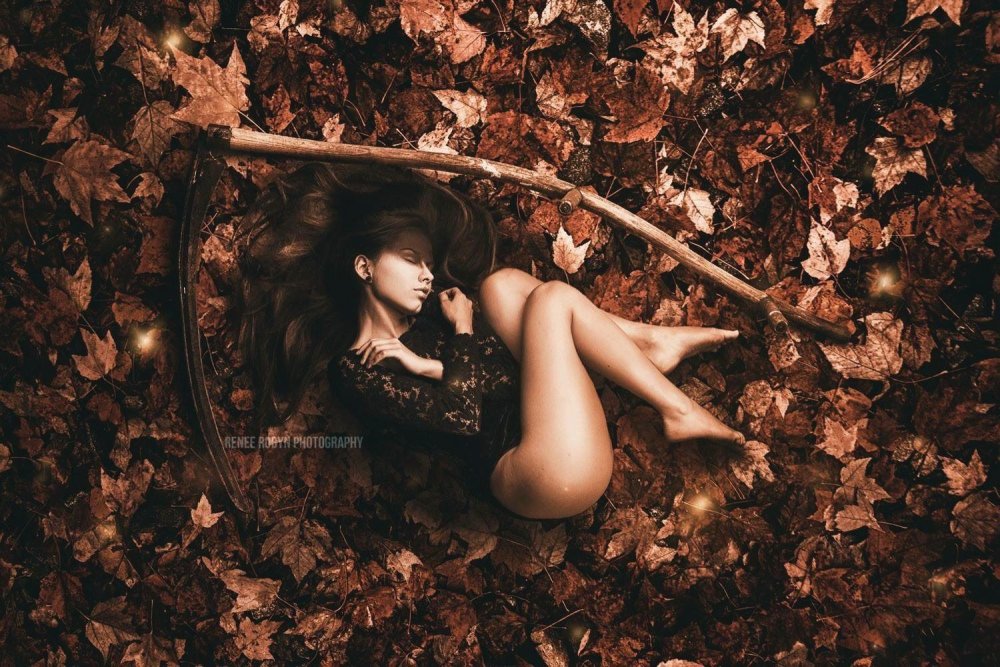 Taking a Creative Break: Makeup for Fun
September 2015
Sometimes I forget to do makeups for myself ... and I don't mean on myself.  I mean doing shoots and makeup concepts that truly let my creative juices flow.  I got the chance to do a few last month and they made me remember I need to do more shoots like these to keep my passion alive.
The first creative I worked on last month was with the beautiful
Dominique Huyghe
and the extremely talented
Renee Robyn Photography
who was assisted by Rob Swynar.  It started with Dominique sending me a message and a few photos with her inspired ideas and I was hooked.
When I found out Renee was the photographer I was even more excited.  She has been on my Facebook for sometime, but I had never actually worked with her in any creative way. When I got to Renee's she showed me a poster on her wall which she wanted to recreate, but with a twist.  We painted half of Dominique's face with brown makeup and faded it down into a pale colour which just happened to match her hair.  I paired this with a geisha-inspired lip. 
On top of striking makeup, she wore a stunning vintage wedding dress for the first set.  It was cold, windy and rainy, but we all stood outside on location so Renee could get her amazing images.
We did a second set with Dominique where she was in a lace body suit with a sickle . I love the feel of this shoot.  It's the essence of Autumn beauty.  Keep an eye out.  Some of the shots will appear in a magazine at your local Chapters.  I'll keep you posted.
___________________________________________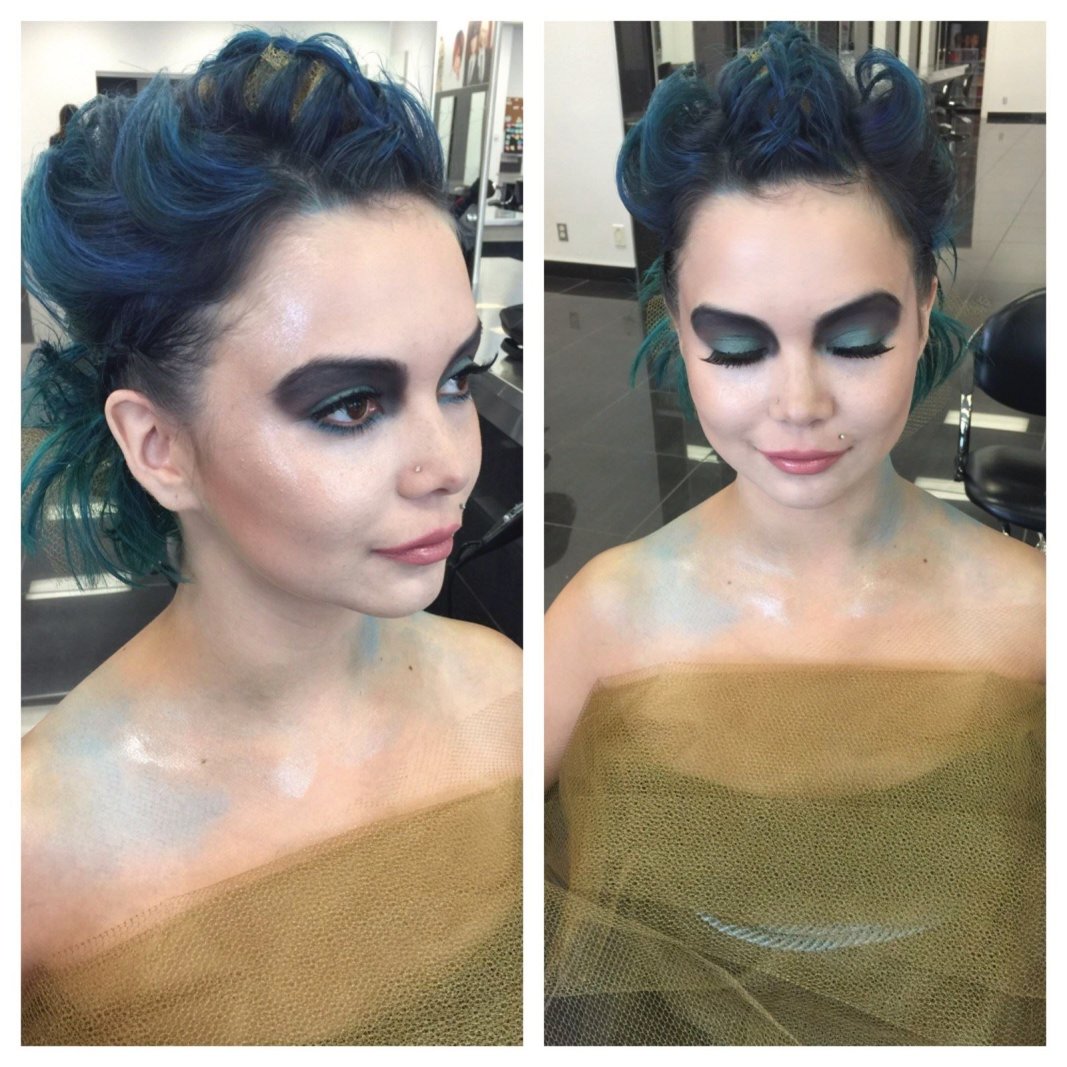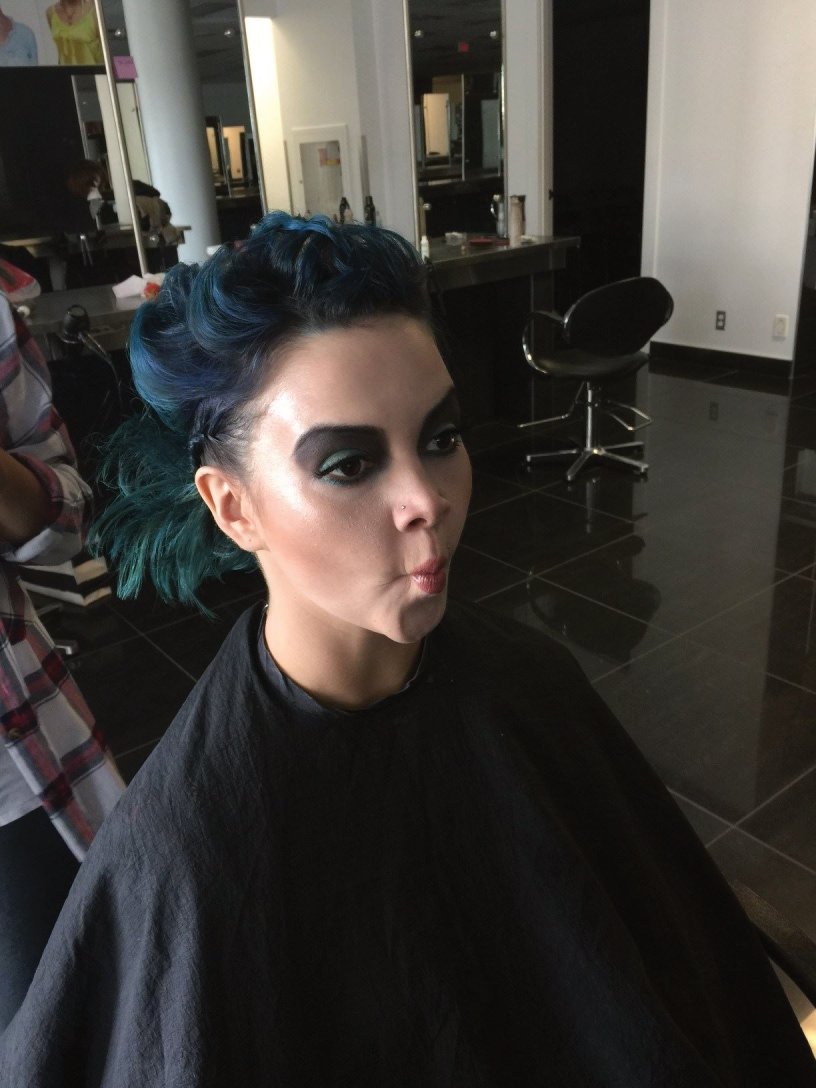 Another creative shoot I did last month was at the 

Evelyn Charles Academy

with some old friends of mine.  Hairstylist Maggie St.Pierrewas looking for a makeup artist and that's when I joined the project.




The model for this creative was

Delreene Kusnyir

, another friend from South Edmonton Common Evelyn Charles.  We went with a mermaid theme on this one: more fish-like than human. It was so good to see and work with this awesome talent.  Maggie used rope and gold mesh to cover Delreene.  We used super gloss to give her skin a wet feel. 




                                                                      ___________________________________________




To finish off the month I was lucky enough to get two creatives in with

Lisa Lovallo

, my boss at L. Hair Studio, and owner of Lovallo Art Photography. Along with her assistant Kristen Robinson, a photography student at

NAIT

, Lisa made one hell of a set with lite tress, lace, mesh and a load of flowers.




Thanks to

Lisa-Marie Couture

 whose gorgeous ballroom-style gowns added an air of elegance. The makeup for this was crisp and clean.  Flawless skin with a simmer highlight and a peachy-gold eye with lashes top and bottom.  It had a fairy-tale feel, very Sleeping Beauty.




With all of the work Lisa put into the set, she contacted us again to see if we wanted to do another shoot.  I never say no to a good idea. This time we wanted heavier makeup.  Eyes where black smoky all the way to the brow with orange and red blended on the lid and orange on the inner corner. I used a light grey contour on the cheeks and gave her pale skin. This went well with the black lace one piece the model wore.

 


Unfortunately I can't show any of the finished photos.  Lisa is getting them published in

Gothesque Magazine

and their 2016 calendar.

___________________________________________





























































                                                                                       ________________________




I don't get to do creative often.  It was nice to let loose and use my imagination.  I think I'll be scheduling more in the near future because sometimes I feel like I'm loosing sight of the reason I do what I do.




Like Renee Robyn told me: "Make yourself your number one client."  I might just take that advice. 





































 





I called up a bunch of people in my network and set up eight photoshoots for Zoë over ten days in three different cities.

Zoë rocked her four different looks: a white flowing dress, a white leather dress, a leather top and flowing skirt and a black feather low-cut dress.

I loved this shoot as Mark is always the life of the party.  We got some awesome high-fashion shots from this shoot. The angles and lines in the building design made this shoot really stand out.

It was a long day (especially since I locked my keys in the trunk) and we were so tired by the end of it, but we made it home safe and sound.

Darin Wayne

has access to one of the most awesome locations for shooting: the old movie theatre at Londonderry Mall in Edmonton's northeast.

For Zoë's second look I darkened up the makeup to give her a messy after-partying look and Darin got a killer shot of her smoking on the stairs. I can't wait to see these pics.

Again we had three looks for this one.  for the first we used soft greens.  The second look had a tribal feel with bold lines and the third was soft with outstanding red lips. 

L. Hair Studio in Sherwood Park, AB - Shoot #8

Four our final shoot we worked with Lisa Lovallo of

Lovallo Art Photgraphy

 who is a close friend and my boss at L. Hair Studio (yes, she owns it). 

This was our only creative shoot this week and it was one of the best shoots we did.  We painted Zoës face and her side right down to her rear (poor girl, the things we put her through) with all sorts of colours. It looked like kindergarden art, but it worked so well. Lisa is also a painter and she helped me with this one as I was making the splatter too perfect (LOL). Final images of this shoot might not be seen for a bit as we are hoping to get this set published. 

West Edmonton Mall

for some shopping and a ride on the Triple-Loop Rollercoaster (aka The Mindbender). 

Dinner and drinks on

Whyte Ave

in Old Strathcona is always a good finish to the day.

At the end of it all, we drove Zoë back to Montana because I was scheduled for another makeup gig with RMEA in Big Sky for the Northwest Model and Talent Competition, ... but that's a tale for another blog.

0

/